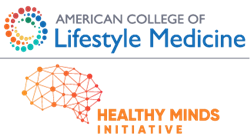 Nearly 90% of dementias and many other cognitive diseases could be prevented by healthier lifestyle choices.
ST. LOUIS (PRWEB) June 16, 2020
The American College of Lifestyle Medicine (ACLM) has announced the addition of the nonprofit Healthy Minds Initiative to its Lifestyle Medicine Corporate Roundtable, a group of individuals and organizations whose collective vision is sustainable human health, a sustainable health care system and a sustainable world.
Healthy Minds Initiative (HMI) is the first nonprofit organization to approach brain health at the interface of community, technology and research. Its aim is to empower individuals to achieve their optimal brain health, and provide communities information regarding brain health, actionable research and locally relevant resources.
"The future of mind/brain health is centered on Lifestyle Medicine because nearly 90% of dementias and many of the other cognitive diseases such as stroke, depression and anxiety could be prevented by healthier lifestyle choices," said HMI founders Drs. Dean and Ayesha Sherzai.
HMI provides science-based brain health education and resources to partner communities. HMI also undertakes Community Based Participatory Research (CBPR) in partner communities to better understand local needs, resources and unique approaches to specific community brain health needs. One such existing HMI project is in the Beach Cities of Hermosa Beach, Manhattan Beach and Redondo Beach, California. With a total population of 123,000 residents, 13 percent of which are over the age of 65, HMI's current health initiatives focus on dementia and general brain health. This large-scale clinical trial in The Beach Cities Health District of Southern California is investigating the influence of a comprehensive lifestyle program on long-term cognitive and general health. HMI also works extensively in other local communities to provide education and raise awareness about a healthy brain.
"Healthy Minds Initiative's vision of a global brain vitality revolution that prevents and mitigates cognitive diseases and disorders at their root cause is inspiring and greatly needed," said ACLM President Dexter Shurney, MD, MBA, MPH, FACLM, DipABLM. "Some 47 million people are living with Alzheimer's disease alone. We are pleased to welcome HMI to our Corporate Roundtable."
"This collaboration between Healthy Minds Initiative and American College of Lifestyle Medicine is a perfect union of two organizations that believe in community empowerment, preventive medicine, and evidence-based health care," said HMI co-founder Ayesha Sherzai. "We are so pleased to join ACLM in the Corporate Roundtable!"
The Corporate Roundtable of the American College of Lifestyle Medicine convenes health care and lifestyle thought leaders, with a keen focus on the power of Lifestyle Medicine to transform health and health care. Roundtable members explore effective Lifestyle Medicine clinical applications, strategies for accelerating reimbursement, and adoption and analysis of potential business-related opportunities. The Roundtable launched in 2015 and has grown to include more than 30 active member organizations.
ABOUT THE AMERICAN COLLEGE OF LIFESTYLE MEDICINE: ACLM is the medical professional society for those dedicated to the advancement and clinical practice of Lifestyle Medicine as the foundation of a transformed and sustainable health care system. Lifestyle Medicine is the use of a whole food, plant-predominant dietary lifestyle, regular physical activity, restorative sleep, stress management, avoidance of risky substances and positive social connection as a primary therapeutic modality for treatment and reversal of chronic disease.
More than a professional association, ACLM is a galvanized force for change. ACLM addresses the need for quality education and certification, supporting its members in their individual practices and in their collective mission to domestically and globally promote Lifestyle Medicine as the first treatment option, as opposed to a first option of treating symptoms and consequences with expensive, ever increasing quantities of pills and procedures. ACLM members are united in their desire to identify and eradicate the root cause of disease. Learn more at http://www.LifestyleMedicine.org.
ABOUT HEALTHY MINDS INITIATIVE:
Healthy Minds Initiative is a non-profit (501c3) organization currently involved in several communities working to expand to communities throughout the United States and beyond. HMI pursues the most innovative approaches to community brain health using technology, Community Based Participatory Research (CBPR), and community specific interventions. Our approach will revolutionize prevention and care by bringing adaptive, low cost, and transparent means of promulgating information, capturing actionable data securely and implementing community relevant interventions through community involvement. To learn more, visit https://www.healthymindsinitiative.org.