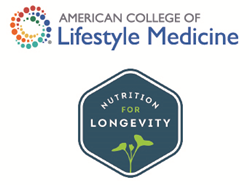 "Based on three decades of research into the relationship of food to longevity, these products are unique in the food delivery market."
ST. LOUIS (PRWEB) September 22, 2020
The American College of Lifestyle Medicine (ACLM) today announced the addition of precision nutrition meal service delivery pioneer Nutrition for Longevity to its Corporate Roundtable. The Corporate Roundtable convenes thought leaders and industry professionals to explore effective clinical innovations, activate marketing strategies, accelerate reimbursement and policy adoption, and pursue research and demonstrations of lifestyle medicine in practice.
The Roundtable launched in 2015 and has grown to include more than 30 active member organizations. In pursuit of sharing scientific findings and best practices, Nutrition for Longevity will now work alongside fellow roundtable members and key leaders within ACLM as contributing partners and will play an active role at ACLM's annual conference.
Nutrition for Longevity is the first meal kit service to combine the power of organic regenerative farming with the science of longevity to progress the movement of "Food as Medicine." The company's meal plans use precision nutrition based on three decades of research behind Dr. Valter Longo's Longevity Diet. Nutrition for Longevity offers nationwide delivery of a wide range of lifestyle food options – from farm fresh produce boxes, to fresh meal kits, and its new fresh heat and serve meal line curated by registered dietitians with food harvested at its peak from N4L's own farm and prepared by in-house chefs.
"A complete renaissance of modern medicine is in our midst, with a re-birth of food being at the center of our health care practices," said Nutrition for Longevity's CEO and Co-founder Jennifer Maynard. "It took humanity 2000 years to determine that Hippocrates, the father of medicine, actually had it right from the beginning with his philosophies of food as medicine. And now more than ever, lifestyle interventions such as plant-forward foods are being proven to be one of the most effective and lowest cost solutions to address our health care shortcomings. At Nutrition for Longevity, our mission is to harness the benefits of clean foods grown using organic regenerative farming that is good for people and the planet. We're excited and honored to be working alongside other likeminded experts and practitioners from the world of Lifestyle Medicine."
Maynard added that estimates show at least 80% of all heart disease, stroke and type 2 diabetes, as well as many other chronic illnesses, could be prevented by healthier lifestyle choices such as eating balanced whole plant-predominant foods. She and her team at Nutrition for Longevity plan to share their scientific and clean farming insights with the Roundtable to collectively advance this lifestyle renaissance.
"Nutrition for Longevity is pioneering the concept of precision, organically grown and evidence-based plant-forward nutrition as a therapeutic option for prevention and treatment of chronic disease," said ACLM President Dexter Shurney, MD, MBA, MPH, FACLM, DipABLM. "Based on Dr. Longo's three decades of research into the relationship of food to longevity, these products are unique in the food delivery market. ACLM is pleased to welcome Nutrition for Longevity into our Corporate Roundtable."
About Nutrition for Longevity
Nutrition for Longevity was founded on the passionate belief that a long, healthy life begins with what's on your plate. To address the nutritional deficiencies in today's commercially-grown produce, Co-Founder and CEO Jennifer Maynard joined forces with L-Nutra and set out to create a farm-to-table meal delivery service that goes beyond organic, restoring food to its natural state so you can support your health according to the principals outlined in The Longevity Diet. Now with a combined effort, L-Nutra and N4L intend to bring "Food as Medicine" to life with a full powerhouse of brands that support precision nutrition covering cycles of feeding and fasting to support an optimized lifestyle. Learn more at http://www.nutritionforlongevity.com.
About the American College of Lifestyle Medicine
The American College of Lifestyle Medicine (ACLM) is the medical professional society for those dedicated to the advancement and clinical practice of Lifestyle Medicine as the foundation of a transformed and sustainable health care system. Lifestyle Medicine is the use of a whole food, plant-predominant dietary lifestyle, regular physical activity, restorative sleep, stress management, avoidance of risky substances and positive social connection as a primary therapeutic modality for treatment and reversal of chronic disease. Learn more at http://www.lifestylemedicine.org.