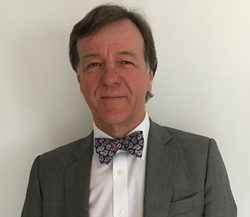 Dixon's remarks will include a personal video message to conference attendees by Prince Charles.
ORLANDO, Fla. (PRWEB) September 17, 2019
The American College of Lifestyle Medicine (ACLM) announced today the addition of Michael Dixon, LVO, OBE, FRCGP, FRCC, medical advisor to H.R.H. Prince of Wales, to the keynote presentation lineup of Lifestyle Medicine 2019. Dixon's remarks will include a personal video message to conference attendees by Prince Charles. Themed "The Foundation of Health Care," the CME-accredited conference will take place at the Rosen Shingle Creek Resort in Orlando, FL October 27-30, 2019.
Dixon has held numerous national leadership roles, including first Chair of NHS Alliance (1998-2016), President of NHS Clinical Commissioners and as a leader within the GP/clinical commissioning movement. He is currently Chair of the College of Medicine, National Clinical lead for Social Prescription (NHS England) and Senior Partner at The Culm Valley Integrated Centre for Health. He is Visiting Professor at University College London and the University of Westminster, a Senior Fellow in Public Policy (University of Birmingham) and an Honorary Senior Fellow Lecturer (Peninsula Medical School Exeter). He has been appointed to both the Royal Victorian Order and the Order of the British Empire.
Other prestigious keynote presenters include Lifestyle Medicine luminaries and authors Dr. Dean and Ann Ornish; Nobel Prize winner Elizabeth Blackburn, PhD; Brooklyn Borough President Eric Adams with Michelle McMacken, MD; Executive Director of the Veterans Health Administration's National Office of Patient Centered Care and Cultural Transformation, Tracy Gaudet, MD; leading author and former Chief Medical Officer of UnitedHealthcare Archelle Gieorgiou, MD; former President of the American College of Sports Medicine Walter Thompson, PhD; NY Times bestselling author and ACLM Fellow Michael Greger, MD; Professor of Health Metrics Sciences at the Institute for Health Metrics and Evaluation (IHME) and Chief Strategy Officer for Population Health at the University of Washington Ali Mokdad, PhD; and Director of the Longevity Institution at the USC School of Gerontology Valter Longo, PhD.
As many as 1,500 physicians and other health professionals are expected to attend the conference, ACLM's largest ever in its 15-year history. Sessions will cover various aspects of Lifestyle Medicine, from the science and the use of evidence-based lifestyle therapeutic approaches, such as a plant-predominant dietary lifestyle, to topics on Lifestyle Medicine and health disparities, women's health, chronic pain management, provider tools, reimbursement and more. Other topics will include strategies on de-prescribing, physician burnout and resiliency, reimbursement and implementing Lifestyle Medicine in clinics, health care institutions and communities.
Lifestyle Medicine 2019 is presented by The Prospect Fund, a socially responsible investment fund which offers its resources to advance important causes globally.
The Lifestyle Medicine physician has been recognized by the Association of the American Colleges of Medicine as one of the five emerging physician careers. ACLM, the medical professional association for physicians and other health team members who practice Lifestyle Medicine, provides training and certification for physicians and other health professionals.
Kicking off with pre-conference workshops on Saturday, October 26, the conference runs through mid-day Wednesday, October 30. T he American Board of Lifestyle Medicine will be hosting its third annual board exam on October 31, with conference attendance fulfilling the live CME exam prerequisite.
ABOUT THE AMERICAN COLLEGE OF LIFESTYLE MEDICINE: ACLM is the medical professional society providing quality education and certification to those dedicated to clinical and worksite practice of Lifestyle Medicine as the foundation of a transformed and sustainable health care system. Lifestyle Medicine treats, often reverses and prevents chronic disease through the combined use of evidence-based lifestyle therapeutic approaches, such as a predominantly whole food, plant-based diet, regular physical activity, adequate sleep, stress management, avoiding use of risky substances and positive social connection. ACLM members are united in their desire to identify and eradicate the root cause of disease, and create a new systems approach to health. Learn more at http://www.LifestyleMedicine.org. For information and to register for Lifestyle Medicine 2018, visit http://www.LMConference.org.