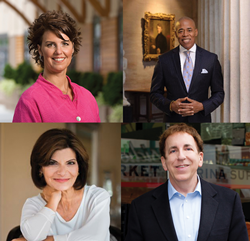 Learn from this vast diversity of presentations and presenters, and network with the leaders and pioneers of the fastest growing medical specialty in the country.
ORLANDO (PRWEB) August 09, 2019
The American College of Lifestyle Medicine (ACLM) will host the largest annual conference in its 15-year history, themed "The Foundation of Health Care," at the Rosen Shingle Creek Resort in Orlando, FL October 27-30, 2019. The annual CM-granting conference will feature a variety of prestigious keynote presenters, including Lifestyle Medicine luminaries and authors Dr. Dean and Ann Ornish; Nobel Prize winner Elizabeth Blackburn, PhD; Brooklyn Borough President Eric Adams with Michelle McMacken, MD; and Executive Director of the Veterans Health Administration's National Office of Patient Centered Care and Cultural Transformation, Tracy Gaudet, MD.
The Ornishes will be speaking on reversal of chronic disease; Blackburn will discuss the role of telomeres and telomerase in health and disease; and Adams will highlight the plant-based nutrition policy work he spearheaded in Brooklyn.
Other keynotes include Archelle Gieorgiou, MD, a leading author and former chief medical officer of UnitedHealthcare; Walter Thompson, PhD, associate dean for Graduate Studies and Research and a tenured Regents' Professor of Kinesiology and Health at Georgia State and former president of the American College of Sports Medicine; NY Times bestselling author and ACLM Fellow Michael Greger, MD; Ali Mokdad, PhD, of the Institute of Health Metrics and Evaluation; and Valter Longo, PhD, Professor of Gerontology and Biological Science and Director of the Longevity Institution at the School of Gerontology at the University of Southern California in Los Angeles.
Concurrent sessions will be led by Lifestyle Medicine luminaries such as Drs. John Kelly, Beth Frates and many others.
"This conference is shaping up to be our largest and most comprehensive," said ACLM President Dexter Shurney, MD, MBA, MPH, FACLM, DipABLM. "The opportunity to learn from this vast diversity of presentations and presenters, as well as the chance to network with the leaders and pioneers of the fastest growing medical specialty in the country is a unique opportunity you won't want to miss."
As many as 1,500 physicians and other health professionals are expected to attend the conference, ACLM's largest ever in its 15-year history. Sessions will cover various aspects of Lifestyle Medicine, from the science and the use of evidence-based lifestyle therapeutic approaches, such as a plant-predominant dietary lifestyle, to topics on Lifestyle Medicine and health disparities, women's health, chronic pain management, provider tools, reimbursement and more. Other topics will include strategies on de-prescribing, physician burnout and resiliency, reimbursement and implementing Lifestyle Medicine in clinics, health care institutions and communities.
Lifestyle Medicine 2019 is presented by The Prospect Fund, a socially responsible investment fund which offers its resources to advance important causes globally.
The Lifestyle Medicine physician has been recognized by the Association of the American Colleges of Medicine as one of the five emerging physician careers. ACLM, the medical professional association for physicians and other health team members who practice Lifestyle Medicine, provides training and certification for physicians and other health professionals.
Kicking off with pre-conference workshops on Saturday, October 26, the conference runs through mid-day Wednesday, October 30. The American Board of Lifestyle Medicine will be hosting its third annual board exam on October 31, with conference attendance fulfilling the live CME exam prerequisite.
ABOUT THE AMERICAN COLLEGE OF LIFESTYLE MEDICINE: ACLM is the medical professional society providing quality education and certification to those dedicated to clinical and worksite practice of Lifestyle Medicine as the foundation of a transformed and sustainable health care system. Lifestyle Medicine treats, often reverses and prevents chronic disease through the combined use of evidence-based lifestyle therapeutic approaches, such as a predominantly whole food, plant-based diet, regular physical activity, adequate sleep, stress management, avoiding use of risky substances and positive social connection. ACLM members are united in their desire to identify and eradicate the root cause of disease, and create a new systems approach to health. Learn more at http://www.LifestyleMedicine.org. For information and to register for Lifestyle Medicine 2018, visit http://www.LMConference.org.