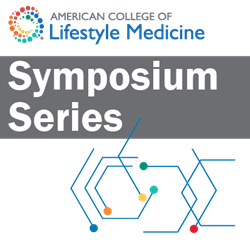 "Addressing lifestyle is the first treatment recommended in chronic disease guidelines, but adequate education for clinicians has been lacking."
ST. LOUIS (PRWEB) June 10, 2021
The American College of Lifestyle Medicine (ACLM) today announced the second event in its new one-day virtual Symposium Series, "Lifestyle Medicine in Academia: Equipping the Next Generation," to take place Wednesday, July 21, 2021, from 11 a.m. to 6 p.m. EDT. The purpose of the symposium is to spotlight how leading academic institutions and faculty are incorporating lifestyle medicine and to support academic institutions, leaders and faculty seeking to implement lifestyle medicine into their academic setting and curriculum.
Faculty, administration, deans, program directors and academicians working in bachelor, master and doctoral health professional programs, to undergraduate medical education (UME), and graduate medical education (GME) are invited to attend this event. They may receive credit for the lifestyle medicine-related content/sessions. The event has been approved for AMA PRA Category 1 Credit™️.
Attendees will receive education and support as presenters highlight pathways, curricula, tools and resources for the implementation of lifestyle medicine education across the entire academic spectrum. Sessions will include information on topics such as the current state of and advancements in lifestyle medicine education; integration; meeting academic institutions where they are along the transtheoretical model of change; implementing culinary medicine; the intersection of academia and the community; and developing a roadmap for implementation.
"As a solution to the unsustainable management of ever-increasing chronic diseases, many of the leading academic institutions in the country are integrating education on lifestyle medicine for health-restoring treatment and reversal," said ACLM President Cate Collings, MD, MS, FACC, DipABLM. "Addressing lifestyle is the first treatment recommended by chronic disease guidelines, but adequate education for clinicians has been lacking. This symposium will highlight the means to further lifestyle medicine education and research into professional training at academic institutions."
Registration is now open at https://bit.ly/3sIIv9E.
ABOUT THE AMERICAN COLLEGE OF LIFESTYLE MEDICINE: ACLM is the medical professional society for those dedicated to the advancement and clinical practice of Lifestyle Medicine as the foundation of a transformed and sustainable health care system. Lifestyle Medicine is the use of evidence-based lifestyle therapeutic intervention—including a whole-food, plant-predominant eating pattern, regular physical activity, restorative sleep, stress management, avoidance of risky substances, and positive social connection—as a primary modality, delivered by clinicians trained and certified in this specialty, to prevent, treat, and often reverse chronic disease.
More than a professional association, ACLM is a galvanized force for change. ACLM addresses the need for quality education and certification, supporting its members in their individual practices and in their collective mission to domestically and globally promote Lifestyle Medicine as the first treatment option, as opposed to a first option of treating symptoms and consequences with expensive, ever increasing quantities of pills and procedures. Learn more at http://www.lifestylemedicine.org