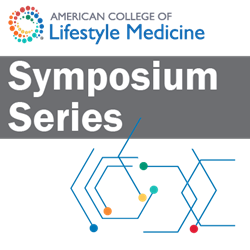 Leading health systems are integrating lifestyle medicine for health-restoring treatment and reversal of chronic disease.
ST. LOUIS (PRWEB) April 01, 2021
The American College of Lifestyle Medicine (ACLM) today announced a new one-day virtual symposium, "Lifestyle Medicine in Health Systems," to take place Friday, May 14, 2021 from 11 a.m. to 6 p.m. EDT. The purpose of the symposium is to spotlight how hospitals can map their journey to offering lifestyle medicine as a real solution to chronic disease.
Health care leaders and change-makers are invited to join this event, and may receive credit for the lifestyle medicine-related content/sessions. The conference has been approved for AMA PRA Category 1 Credit™.
Health care systems are constantly seeking new ways to sustainably achieve the Quadruple Aim of performance—improving patient experience, improving population health, reducing health care costs and improving providers' clinical experience--through innovation. As a solution to the unsustainable management of ever-increasing chronic diseases, many of the leading systems in the country are integrating lifestyle medicine for health-restoring treatment and reversal.
This one-day event will showcase leading experts in the field of lifestyle medicine and offer practical tips and tactics from boots-on-the-ground health professionals, businesses and c-suite leaders. Attendees will receive an understanding of the financial return on investment of lifestyle medicine, the points of entry, how to work with payors, how to engage communities and how to leverage technology solutions. Sessions will include information on topics such as improving hospital food options and addressing staff burnout and resilience.
"ACLM is pleased to offer this symposium at a time when it is clearer than ever that addressing lifestyle-related chronic disease needs to take place at the health systems level, not just in individual physician clinics," said ACLM President Cate Collings, MD, MS, FACC, DipABLM. "Because addressing lifestyle is the first treatment recommended by chronic disease guidelines, lifestyle medicine needs to be at the core of all health care wherever it is delivered. This symposium will provide the how-to information needed to integrate these evidence-based therapies."
Registration is now open at https://bit.ly/3sIIv9E.
ABOUT THE AMERICAN COLLEGE OF LIFESTYLE MEDICINE: ACLM is the medical professional society for those dedicated to the advancement and clinical practice of Lifestyle Medicine as the foundation of a transformed and sustainable health care system. Lifestyle Medicine is the use of evidence-based lifestyle therapeutic intervention—including a whole-food, plant-predominant eating pattern, regular physical activity, restorative sleep, stress management, avoidance of risky substances, and positive social connection—as a primary modality, delivered by clinicians trained and certified in this specialty, to prevent, treat, and often reverse chronic disease.
More than a professional association, ACLM is a galvanized force for change. ACLM addresses the need for quality education and certification, supporting its members in their individual practices and in their collective mission to domestically and globally promote Lifestyle Medicine as the first treatment option, as opposed to a first option of treating symptoms and consequences with expensive, ever increasing quantities of pills and procedures. Learn more at http://www.lifestylemedicine.org.