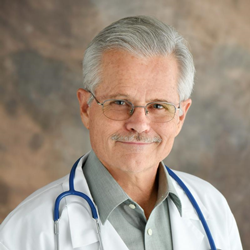 Dr. Guthrie recognized the potential for evidence-based lifestyle medicine to treat chronic disease early on and has worked tirelessly to put lifestyle medicine at the center of all health and health care.
ST. LOUIS, Mo. (PRWEB) December 20, 2022
The American College of Lifestyle Medicine (ACLM) has announced that George Guthrie, MD, MPH, CDE, FACLM, FAAFP, DipABLM, a family medicine physician and member of the academic program at AdventHealth's Centre for Family Medicine who has developed several innovative lifestyle change programs, was awarded the medical professional organization's 2022 President's Award.
The award recognizes exceptional dedication to lifestyle medicine and ACLM as an organization in advancing its vision and mission. As the leading physician-led lifestyle medicine organization, everything that ACLM accomplishes is only possible through the dedication of its members. Recipients of the President's Award must be highly engaged members of ACLM for a minimum of five years and volunteer their time and energy to ensure its success.
Dr. Guthrie has been a visionary leader for the field of lifestyle medicine and ACLM, where he became a founding member in 2004 after recognizing that there was no other field of medicine that represented evidence-based therapeutic lifestyle intervention to treat and reverse already existing chronic disease. This became the impetus for establishing ACLM as the medical professional home for physicians dedicated to treating root causes of disease, with the goal of health restoration.
Dr. Guthrie served as ACLM president from 2016 to 2018, prioritizing increased member engagement. Member Interest Groups (MIG) grew from just three to nearly two dozen under his leadership. Prior to his service as president, Dr. Guthrie served on the ACLM Board of Directors as secretary-treasurer and, during his time on the board, organization membership surged. Today, ACLM represents more than 9,000 members.
Dr. Guthrie is a member of the academic program for AdventHealth in Winter Park, Fla. where he trains family medicine residents with an emphasis on lifestyle medicine. A pioneer in the growing specialty of lifestyle medicine, he was involved with the development of the Complete Health Improvement Project (CHIP), the Wellspring Diabetes Program and AdventHealth's CREATION Health Program. He has authored several books, including "Eat Plants Feel Whole," and a journal and cookbook of the same name, as well as "Plant Powered Recipes to Help You Feel Whole."
Dr. Guthrie's path to lifestyle medicine started early in his medical career, when he spent seven years on the island of Guam, which had a high prevalence of type 2 diabetes. Intrigued by the potential of treating chronic disease through lifestyle change, he returned to school and earned a master's degree in public health with a focus on nutrition from Loma Linda University.
Dr. Guthrie describes one of his greatest joys as "seeing patients and community members embrace the principles of whole food plant-based eating and watching their health transformations."
"Dr. Guthrie recognized the potential for evidence-based lifestyle medicine to treat chronic disease early on and has worked tirelessly to put lifestyle medicine at the center of all health and health care," said ACLM Past President Cate Collings, MD, MS, FACC, DipABLM. "His leadership of ACLM helped spark the transformation of what at the time was still a fledging medical professional society into the dynamic organization that it is today. We are grateful to Dr. Guthrie for his passion and service."
ABOUT ACLM
The American College of Lifestyle Medicine is the nation's medical professional society advancing lifestyle medicine as the foundation for a redesigned, value-based and equitable healthcare delivery system, leading to whole person health. ACLM educates, equips, empowers and supports its members through quality, evidence-based education, certification and research to identify and eradicate the root cause of chronic disease, with a clinical outcome goal of health restoration as opposed to disease management. http://www.lifestylemedicine.org