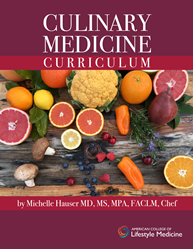 Culinary Medicine is a field that brings together nutrition and culinary knowledge and skills to assist patients in preventing, treating, and even reversing food-related disease.
ST. LOUIS, Mo (PRWEB) January 09, 2020
Diet has been identified as the single most important risk factor for morbidity and mortality in the United States, yet most health care providers spend relatively few hours learning about nutrition during their training. The need for more nutrition education in medical schools has been highlighted in widespread media coverage emanating from a recent report of the Harvard Law School Food Law and Policy Clinic.
To fill this gap, the American College of Lifestyle Medicine has announced the availability of its new 200-page curriculum book, Culinary Medicine Curriculum, a free resource focused on practical dietary behavior changes, food knowledge and cooking skills needed to move toward a healthier diet. The course author is Michelle Hauser, MD, MS, MPA, FACLM, Chef, who created a highly successful culinary medicine elective course for medical students at Stanford University School of Medicine in 2017 with assistance from Julia Nordgren, MD, Chef, and Stanford colleagues, Maya Adam, MD, Tracy Rydel, MD, Christopher Gardner, PhD, and David Iott, Chef—all of whom except Iott are contributors on the Culinary Medicine Curriculum along with Emma Steinberg, MD, Chef, and Alaina Bever.
The curriculum is available via complimentary download and is intended to be used and implemented in medical schools and other health professional training programs but is easily adaptable for use in a variety of other educational environments, including residency programs, health and wellness coaching, and masters level courses.
"The nutrition education that currently is offered in medical schools is often primarily didactic and focused on the biochemistry of nutrients and health consequences of deficiency states—content that is of limited use in a clinical setting where the majority of the population faces overnutrition due to high intake of ultra-processed, calorie-dense foods," Hauser said. "Culinary Medicine is an evidence-based field that brings together nutrition and culinary knowledge and skills to assist patients in maintaining health and preventing, treating, and even reversing food-related disease by choosing high-quality, healthy food in conjunction with appropriate medical care."
While Culinary Medicine does not endorse a single dietary philosophy, this curriculum has been designed to focus on whole food, plant-based nutrition, a dietary pattern centered on foods including vegetables, fruits, whole grains, legumes, nuts, and seeds. While a number of dietary patterns have been associated with prevention and treatment of common chronic diseases, the whole food, plant-based diet is the only shown to reverse coronary artery disease, which is responsible for one in every four deaths for those over age 35.
The curriculum also includes concrete strategies for health care providers wishing to partner with their patients on improving dietary choices, thereby assisting them in transitioning along a spectrum to a more plant-centric diet focused on whole foods. The goal is to provide students with lessons about healthy diet, tasty food preparation, dietary behavior change and counseling patients via motivational interviewing.
The curriculum has been adapted to enable a wide variety of health professionals to teach Culinary Medicine in their training programs and takes into account world flavors and culinary traditions, while keeping in mind time and resource constraints.
"Providing health care professionals with a strong foundation in Culinary Medicine—including what constitutes a healthy diet and how to find, obtain, and prepare healthy and delicious food—is a key part of educating health professionals to partner and support patients in achieving better health outcomes," said ACLM President Dexter Shurney, MD, MBA, MPH, FACLM, DipABLM. "Media reports on nutrition research tend to foster confusion about what makes up a healthy diet by focusing on nuances; however, the vast majority of nutrition scientists and public health experts agree on the health benefits of diets rich in whole, plant foods and low in processed foods. We are so thrilled to have partnered with Dr. Hauser on this critically needed curriculum."
"Culinary Medicine can be thought of as the applied, laboratory portion of a nutrition curriculum for students and trainees," Hauser said. "Such training can be provided as part of the four-year medical school curriculum, incorporated later as continuing medical education, or included in training programs for those in allied health professional fields."
To access the Culinary Medicine curriculum, go to https://lifestylemedicine.org/culinary-medicine.
ABOUT THE AMERICAN COLLEGE OF LIFESTYLE MEDICINE: ACLM is the medical professional society for those dedicated to the advancement and clinical practice of Lifestyle Medicine as the foundation of a transformed and sustainable health care system. Lifestyle Medicine is the use of a whole food, plant-predominant dietary lifestyle, regular physical activity, restorative sleep, stress management, avoidance of risky substances and positive social connection as a primary therapeutic modality for treatment and reversal of chronic disease.
More than a professional association, ACLM is a galvanized force for change. ACLM addresses the need for quality education and certification, supporting its members in their individual practices and in their collective mission to domestically and globally promote Lifestyle Medicine as the first treatment option, as opposed to a first option of treating symptoms and consequences with expensive, ever increasing quantities of pills and procedures. ACLM members are united in their desire to identify and eradicate the root cause of disease. Learn more at http://www.LifestyleMedicine.org.