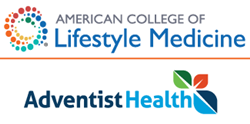 "We are actively seeking health system partnerships to bring health restoration to patients rather than merely management of chronic diseases."
ST. LOUIS (PRWEB) March 16, 2021
To support the deeper integration of lifestyle medicine programs and education into patient care, the American College of Lifestyle Medicine (ACLM) today announced a multifaceted partnership with Adventist Health, a nonprofit integrated health system serving more than 80 communities on the West Coast and Hawaii. Under the new agreement, ACLM will provide evidence-based lifestyle medicine training opportunities for Adventist Health medical staff and associates to bring lifestyle medicine knowledge into the system's clinical care settings, and Adventist Health will become a member of ACLM's Lifestyle Medicine Corporate Roundtable.
Lifestyle medicine is defined as the use of evidence-based lifestyle therapeutic intervention —including a whole-food, plant-predominant eating pattern, regular physical activity, restorative sleep, stress management, avoidance of risky substances and positive social connection — as a primary modality, delivered by clinicians trained and certified in this specialty, to prevent, treat and often reverse chronic disease.
ACLM is the nation's fastest-growing medical professional society, providing live and online accredited lifestyle medicine continuing medical education and continuing education events and offerings across the medical education continuum, board and professional certification opportunities, clinical practice tools and patient education resources. ACLM has championed food as medicine and other evidence-based therapies since its inception in 2004, and has grown to a membership today of almost 6,000 physicians and other clinicians.
In addition to receiving educational opportunities, Adventist Health will also become a member of the ACLM Corporate Roundtable. The ACLM Corporate Roundtable convenes thought leaders and industry professionals to explore effective clinical innovations, activate marketing strategies, accelerate reimbursement and policy adoption and pursue research and demonstrations of lifestyle medicine in practice. The Roundtable launched in 2016 and has grown to include more than 30 active member organizations in the lifestyle medicine ecosystem.
"This partnership aligns with Adventist Health's vision to move from being a health care company to a health company with a focus on well-being," said Dexter Shurney, MD, MBA, MPH, FACLM, DipABLM, Adventist Health senior vice president and Well-Being Division chief medical officer. "We are committed to offering lifestyle medicine education to further support our talented team in focusing on not just treating sickness, but also equipping patients with the ability to make the healthy choice the easy choice for their well-being."
"ACLM's mission is to make lifestyle medicine the foundation of health and all health care," said ACLM President Cate Collings, MD, MS, FACC, DipABLM. "We are actively seeking health system partnerships such as this with Adventist Health to help us achieve that mission and bring health restoration to patients rather than merely management of chronic diseases. We are proud to have Adventist Health as an education partner as well as a member of our Corporate Roundtable."
ABOUT ADVENTIST HEALTH: Adventist Health is a faith-based, nonprofit integrated health system serving more than 80 communities on the West Coast and Hawaii as well as others across the U.S. through its Blue Zones company, a pioneer in taking a systemic and environmental approach to improving the health of entire cities and communities. Through this work, Adventist Health is leading a 21st century well-being transformation movement. Founded on Seventh-day Adventist heritage and values, Adventist Health provides care in hospitals, clinics, its innovative Adventist Health Hospital@Home program that provides virtual in-patient care at home, home care agencies, hospice agencies and joint-venture retirement centers in both rural and urban communities. Our compassionate and talented team of 37,000 includes associates, medical staff physicians, allied health professionals and volunteers driven in pursuit of one mission: living God's love by inspiring health, wholeness and hope. Together, we are transforming the American healthcare experience with an innovative, yet timeless, whole-person focus on physical, mental, spiritual and social healing to support community well-being. Learn more at https://www.adventisthealth.org/.
ABOUT THE AMERICAN COLLEGE OF LIFESTYLE MEDICINE: ACLM is the professional medical association for those dedicated to the advancement and clinical practice of Lifestyle Medicine as the foundation of a transformed and sustainable healthcare system. Lifestyle Medicine involves the use of evidence-based lifestyle therapeutic approaches, such as a predominantly whole food, plant-based diet, regular physical activity, adequate sleep, stress management, avoidance of risky substance use, and other non-drug modalities, to prevent, treat, and, oftentimes, reverse the lifestyle-related, chronic disease that's all too prevalent. ACLM addresses the need for quality education and certification, supporting its members in their individual practices and in their collective desire to domestically and globally promote Lifestyle Medicine as the first treatment option, as opposed to a first option of treating symptoms and consequences with expensive, ever-increasing quantities of pills and procedures. Join today at http://www.LifestyleMedicine.org.