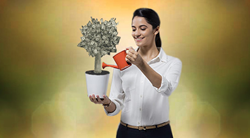 Even the wealthiest of people can find themselves struggling if they don't know how to budget and save.
BOSTON (PRWEB) June 24, 2019
Building wealth is not something that will happen overnight. It takes time and perseverance. The biggest lessons consumers need to learn is how to save and how to stick to a budget. To help, national nonprofit American Consumer Credit Counseling (ACCC) provides consumers with five tips on how they can grow their wealth.
"Learning how to save and how to create and stick to a budget are the most important aspects of growing wealth," said Steve Trumble, President and CEO of American Consumer Credit Counseling. "Keeping track of your money and knowing how much money you have coming in and out each month is vital when trying to figure out how much you can set aside to build your funds. Even the wealthiest of people can find themselves struggling if they don't know how to budget and save."
According to TIAA, 20% of a consumer's income should go to their savings, 50% should go towards necessities, like housing, and 30% towards discretionary items, such as vacations and going out to dinner. This is also known as the 50/30/20 rule and will enahnce a consumer's savings if done correctly.
ACCC gives consumers five tips on how they can build their wealth over time.
1. Budget - It is important to know how much money is coming in and out each month and where it is going before you can start building wealth.
2. Automatically save a portion of one's income - Learning how to save is key when trying to build wealth. Consumers who automatically put a percentage, ideally 20%, of their paycheck into savings, tend to spend less because they are less likely to take money from a savings account than a checking account.
3. Cut debt - Debt is a major obstacle when it comes to growing wealth. Consumers who eliminate their debt as soon as possible are able to focus more time on saving money and growing wealth.
4. Optimize spending - Consumers who are smart about what they are spending money on and work to find deals are more likely to have extra money to save.
5. Find ways to make extra money - Consumers who generate income in different ways, such as getting a side hustle, selling old clothes or renting out a home, can earn extra money to put into their savings.
ACCC is a 501(c)3 organization that provides free credit counseling, bankruptcy counseling, and housing counseling to consumers nationwide in need of financial literacy education and money management. For more information, contact ACCC:

For credit counseling, call 800-769-3571
For bankruptcy counseling, call 866-826-6924
For housing counseling, call 866-826-7180
Or visit us online at http://www.ConsumerCredit.com
About American Consumer Credit Counseling
American Consumer Credit Counseling (ACCC) is a nonprofit credit counseling 501(c)(3) organization dedicated to empowering consumers to achieve financial management through credit counseling, debt management, bankruptcy counseling, housing counseling, student loan counseling and financial education concerning debt solutions. To help consumers reach their goal of debt relief, ACCC provides a range of free consumer personal finance resources on a variety of topics including budgeting, credit and debt management, student loan assistance, youth and money, homeownership, identity theft, senior living, and retirement. Consumers can use ACCC's worksheets, videos, calculators, and blog articles to make the best possible decisions regarding their financial future. ACCC holds an A+ rating with the Better Business Bureau and is a member of the National Foundation for Credit Counseling® (NFCC®). For more information or to access free financial education resources, log on to ConsumerCredit.com or visit http://www.consumercredit.com/financial-education.aspx.