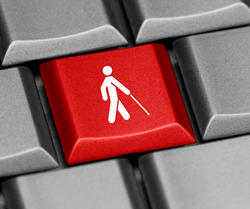 There is not a shortcut method to becoming ADA website compliant. Becca Wilson, CEO
DALLAS (PRWEB) May 20, 2019
The 2018 annual total of website disability lawsuits filed was startling: 2,258 cases representing a 177% increase over 2017 according to research performed by Seyfarth Shaw Law Firm sourced from The Courthouse News Services. Cases filed in New York lead the list at 1,564.
Since the Department of Justice has to date made no formal regulation for criteria to determine if a website meets with the American Disabilities Act, the interpretation has been left to local jurisdictions and precedent cases are mounting. In January 2019 the Ninth Circuit Court of Appeals overturned a District Court decision in Robles v. Domino's Pizza No.17-55504 whereby the superior court ruled that the ADA applied to the Domino's website, that the absence of the Department of Justice ruling would not annul the defendant's claim, and that the court had competency to rule on the technical matter. It is anticipated that this ruling will invite more California website ADA litigation.
The federal government has adopted criteria for government websites as published by the World Wide Web Consortium, better known as W3C, which has recently released version 2.1 of its Web Content Accessibility Guidelines for ADA website disability accessibility compliance, and has thereby set a model for courts to follow. The principles for ADA compliance are stated by W3C as requirements for:
1. Perceivable: Information and user interface components must be presentable to users in ways they can perceive.
2. Operable: User interface components and navigation must be operable.
3. Understandable: Information and the operation of user interface must be understandable.
4. Robust: Content must be robust enough that it can be interpreted reliably by a wide variety of user agents, including assistive technologies.
These four standards encompass 78 special programming requirements and limitations. Despite some popular claims, there are no quick solutions in adapting accessibility compliance to an existing website. "The W3C also provides a methodology for testing. There is not a shortcut method to becoming ADA website compliant," said Becca Wilson, Spherexx CEO, "Work through the process. There are many advertisements and offers of quick fixes for your website to become ADA-compliant when you conduct a website search on the topic. But caveat emptor. You could possibly spend a significant sum and not meet the qualifying criteria in the end."
"We have been alerting clients for the last two years that ADA compliance will soon become critical, especially for companies that offer storefront services," added Wilson.
One common element that is sustainable in website ADA cases is that the website refers to a physical location of public accommodation to thus far be subject to ADA compliance. W3C provides for a 24/7 telephone alternative to accessibility programming; however, the phone and contact information must clearly meet accessibility standards.
A report from Cornell University from the Yang-Tan Institute on Employment and Disability concludes there were 41 million people with disabilities in the U.S. More than half of the 12.7% disabled citizens of the U.S. population suffer from ambulatory disability, followed by cognitive, independent living, hearing, self-care and visual. The Internet provides great advantages to those who have such physical limitations. ADA website compliance offers many a window into the world that might not be otherwise experienced.
ABOUT SPHEREXX.COM® FULL CIRCLE SOLUTIONS
Spherexx.com® is an advertising agency, software developer and business intelligence provider that has served multiple industries across the U.S. since 2000. An INC5000 company, Spherexx has offices is Tulsa OK and Dallas TX, providing cloud-based marketing technology to meet the demand for results-driven website design, touchscreen kiosks, and software solutions. Spherexx.com offers a wide selection of professional services including Internet lead generation tools, online advertising, consulting, advanced mobile technology, apartment leasing and lease-up marketing, and search engine performance. The company provides branding services, video/multimedia production, hosting, database solutions, pay per click, e-commerce solutions and custom programming. Spherexx has also developed multiple CRM, revenue management, and management tools that empower clients to convert leads to sales.