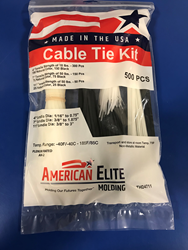 We are excited to be able to offer our made-in-USA cable ties directly to the American consumer at Home Depot stores.
CRESTVIEW, Fla. (PRWEB) February 10, 2020
American Elite Molding, America's leading manufacturer of cable ties, announces that The Home Depot is now carrying their top-quality, American-made cable ties in stores across the United States. AEM cable ties are offered in bags that contain a 500-piece assortment of small, medium, and large sizes for uses such as securing cable and pipe bundles. Each bag contains 300 4" 18lb ties (150 natural color and 150 black); 150 7" 50lb ties (75 natural color and 75 black); and 50 11" 50lb ties (25 natural color and 25 black). Other assortments can be obtained through special order. These products will be available for a limited time.
"We are extremely proud to announce this partnership with The Home Depot," said American Elite Molding Founder and CEO Robert Sires. "The package that is currently available at Home Depot has a variety of sizes that will meet the needs of individual users, at an affordable price. We are excited to be able to offer our made-in-USA cable ties directly to the American consumer, building on our 22 years of meeting the needs of industrial and corporate customers. As we grow, we remain committed to American manufacturing and to delivering the best possible product."
Celebrating its 22nd anniversary, American Elite Molding is America's leading manufacturer of nylon cable ties. Located in Crestview, Florida, its state-of-the-art ISO 9001-certified facility operates 24/7/365 and boasts the most advanced production processes in the U.S. AEM offers an extensive line of cable ties in a variety of lengths, tensile strengths, and colors, plus accessories such as mounting pads and cable clamps. American Elite Molding's specialty products include EZ-Off™ ties, releasable ties, custom-printed ties, and HVAC duct straps. All cable ties use virgin nylon 6/6 to guarantee superior quality and are UL Listed and Mil-Spec approved, including UL 62275 Type 21S. AEM maintains a full inventory of all cable ties for Just-in-Time delivery from regional stocking locations to its national distributor network. American Elite Molding is committed to continuous improvement in quality and service in all areas. The company focuses on customer success as well as satisfaction, and all American Elite Molding products are backed by a 100% satisfaction guarantee. For more information, call 1-888-463-3454, visit http://www.AmericanEliteMolding.com, or find AEM on Facebook.