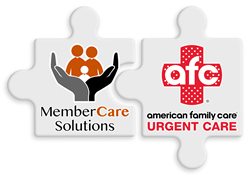 Our mission from day one was to design a solution that allows patient care organizations to easily set up, execute, and manage a patient care membership program.
ST. CHARLES, Mo. (PRWEB) July 31, 2020
Member Care Solutions announced a deal with American Family Care (AFC) that would provide one of the nation's largest urgent care clinic operators the licensing of their cloud based membership management software platform.
"We are very pleased and excited to welcome AFC to the Member Care Solutions client family. Our software is the perfect match for many reasons, but AFC's need to quickly set up, market, track and have immediate accounting/reporting capabilities for all of their 220+ locations was key," noted Jay Tapp, SVP of Sales & Marketing for Member Care Solutions. "We're also equipped to network all of their locations together so every member has access to every AFC location, which is one of their primary requirements."
Tapp also noted that a cohesive software approach has allowed AFC to scale with consumer demand as well. "We expect that there will be an increase in urgent care membership plans as the general population feels the crunch of unemployment or under-employment due to Covid-19. The need for medical services remains very real and the cost of membership programs is minimal yet the services offered are robust."
AFC (an Alabama based company), which operates corporate-owned as well as franchise clinics amounting to over 220 across the country, and is currently represented in 26 States (and growing), will begin offering their patients membership plan options in select States through their new membership program branded as "MY AFC".
Member Care Solutions developed their software specifically for the care industry. All of the core functionality built into the software is designed to quickly and easily facilitate and manage the multi-level flow of activity that is a natural part of a membership program no matter the size of the organization. This includes automating the recurring monthly member billing, notifying members when their credit card is about to expire to avoid interruptions in their membership services – the software even offers the ability to enroll entire companies (employees) under a membership program, which is something that is quickly growing in popularity among large and small corporations.
"Our mission from day one was to design a solution that allows patient care organizations to easily set up, execute, and manage a patient care membership program," said Member Care Solutions Founder & CEO, Darren Eilers. "It's key that our clients have the peace-of-mind that once launched, no matter how large their program or organization grows, the amount of manual effort required to manage their program would remain minimal since the software is doing the heavy lifting. This allows our clients to continue focusing on their core business, providing patient care."
The urgent care subscription concept is relatively new, but there are organizations with established subscription care programs out there. The basic concept is that by allowing affordable monthly membership plans to patients with high insurance deductibles, the clinics will generate a steady stream of compounding recurring membership revenue from the growing number of members, while providing their patients [members] with significant discounts on their everyday care needs. The idea of scaling such a concept with the help of sophisticated software, such as the Member Care Solutions platform, is something that is causing large organizations like AFC to take notice.
About Member Care Solutions
Member Care Solutions is a cloud software platform that allows healthcare providers to fully mold, deploy and manage their own in-house patient care membership program that is specific to both the care needs of their patients and the business needs of the provider.
For more information about Member Care Solutions, please visit them at https://membercaresolutions.com.