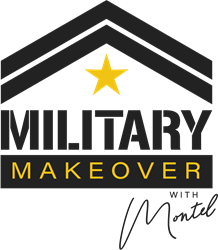 I've often said that when I 'left' the military I never really took my uniform off and Military Makeover has provided me a powerful platform to continue my advocacy on behalf of military and veteran families. - Montel Williams, Host and Co-Executive Producer
DEERFIELD BEACH, Fla. (PRWEB) November 02, 2019
The American Forces Network (AFN) will begin airing the 19th season of the popular veteran show, Military Makeover with Montel, through its broadcast network in 7 continents and 168 countries worldwide, sharing heartwarming stories that offer hope and a helping hand on the home-front to members of the military and their loved ones. The AFN network consists of eight television, 12 radio and nine streaming internet radio services to American service members, Department of Defense and other U.S. government civilians and their families stationed at bases overseas and on Navy ships.
Talk show legend and military advocate Montel Williams, a veteran of the Marine Corps and the Navy, is both host and co-executive producer of the show. Montel along with the cast and crew, special guest veteran WWE Superstar Lacey Evans, and equally passionate national brands, come equipped with building supplies, designs, furniture and gifts on this reality style show. Military Makeover's final reveal unites the entire community, cast, brand partners and volunteers, creating a true "community celebration" of support for the transformation they have created together for the military family.
"I'm very excited to share Military Makeover with military families around the globe. I've often said that when I "left" the military I never really took my uniform off and Military Makeover has provided me a powerful platform to continue my advocacy on behalf of military and veteran families and do what I can to make life better for some very deserving families." - Montel Williams, Host and Co-Executive Producer
"The American Forces Network and Montel Williams share a common goal: enhancing the morale of our American military service members and their families," said AFN spokesman George A. Smith. "AFN is pleased to serve as the bridge with a Marine and Navy veteran like Montel who remembers his brothers and sisters in arms in a tangible way with his Military Makeover show."
###
Military Makeover with Montel®, A BrandStar Original, is America's leading branded reality TV show, offering hope and a helping hand here on the home front to members of our military and their loved ones. Talk show legend and military advocate Montel Williams, a veteran of both the Marine Corps and the Navy, creatively co-produces the show and works with a colorful cast that seeks to transform the homes and lives of military families across the country. The cast includes co-host Art Edmonds, designer Jennifer Bertrand and contractor Ryan Stanley. This special series enlists caring companies of all sizes as well as nonprofits and the local community. Help starts at home for veterans on Military Makeover. Join us as our makeover team engages to change the living situation – and the lives – of these deserving families. Military Makeover with Montel EPK
About American Forces Network: The American Forces Network satellite-delivered television services offer the best stateside programming for US forces stationed outside of the United States, its territories or possessions. AFN television services are delivered on base cable systems, in the case of major garrison locations, or directly to the homes of our audience members using a satellite dish and AFN-capable decoder. AFN offers two distinct programming streams, Direct to Home (DTH) and Direct to Sailor (DTS). The DTH service is an eight-channel programming package, which includes: AFN|prime Atlantic, AFN|prime Pacific, AFN|news, AFN|sports, AFN|sports2, AFN|spectrum, AFN|family(AFN|pulse), and the AFN|movie channel. The DTS service is a three-channel programming package, designed specifically for Navy ships at sea, includes AFN|prime, AFN|news and AFN|sports channels. Program scheduling information for all services is available online at http://www.myafn.net.