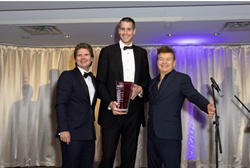 MIAMI (PRWEB) December 07, 2021
On December 5, HotelPlanner, a leading travel technology company seeking a public NASDAQ listing, hosted their annual American Group Travel Awards (AGTA) at the Nobu Hotel South Beach to benefit St. Jude Children's Research Hospital, raising a record fundraising total for the charity. This year's theme "Reimagining Group Travel" recognized the increased complexity for group travel planners and how the industry continues to adapt and evolve to the ever-changing post-pandemic environment.
The star-studded affair was attended by more than 200 people, including HotelPlanner senior executives and their pending non-employee Board of Director nominees, Reservations.com Co-Founders Yatin Patel and Mahesh Chaddash, and a diverse group of hospitality industry executives, and VIPs and celebrities as follows: AGTA Host Dylan Ratigan, HotelPlanner Co-Founder & CEO Tim Hentschel, HotelPlanner brand ambassador, tennis star and World Hospitality Award winner John Isner, HotelPlanner brand ambassador and WBO Cruiserweight Champion of the World Lawrence Okolie, former Florida Senator George LeMieux, DJ and producer Paul Oakenfold, restauranteur Todd English, dermatologist Dr. Nicholas Perricone, financier Todd Ruppert, LL Cool J's producer E-Love, the father of digital art Laurence Gartel, former Miss Ohio and U.S. Congressional candidate Madison Gesiotto Gilbert and her husband, former Arizona Cardinals football player Marcus Gilbert, as well as news media personalities Rita Cosby, Rob Schmitt, Eboni Williams, and Gianno Caldwell, and many others. Entertainment was provided by performer SWXM and DJ Dalton Loughlin.
Last but certainly not least, St Jude's representative Lainie Jones spoke on stage about the importance of this event in raising much needed funds for children with cancer and the life-saving impact of AGTA's annual charitable contributions.
The winners of the 2021 American Group Travel Awards are as follows:
Best Hotel Brand for Sports Team & Leisure Groups
Winner: Best Western Hotels & Resorts
Best Hotel Management Company for Group Travel
Winner: Aimbridge Hospitality
Best Online Travel Agency
Winner: Expedia
Best Hotel Brand for Weddings
Winner: Wyndham Grand
Best City Convention & Visitors Bureau for Groups & Conventions
Winner: Las Vegas Visitors & Convention Authority
Best Media Outlet for Group, Meetings & Conventions Travel
Winner: Travel + Leisure
Best Hotel Brand Luxury Meetings & Events
Winner: The Ritz-Carlton
Best Hotel Brand for Conventions & Conferences
Winner: Hilton Hotels & Resorts
World Hospitality Award
Winner: John Isner
"On behalf of the entire team at HotelPlanner, I would like to congratulate this year's AGTA winners and nominees for their exceptional work in advancing group travel in a time of unprecedented challenge and change," said Tim Hentschel, Co-Founder & CEO, HotelPlanner. "A very special thank you to our brand ambassador, professional tennis player and World Hospitality Winner John Isner. I'd also like to thank all the celebrities, VIPs, and sponsors for attending, supporting and promoting the event. We are incredibly honored to support St Jude's Children's Research Hospital each year as our charity of choice. Group travel is roaring back, and we anticipate a strong 2022 for both individual and group leisure travel. It's an incredibly exciting time for our industry."
"I'm deeply honored to accept HotelPlanner's World Hospitality Award winner at this year's American Group Travel Awards," says John Isner.
"HotelPlanner is based on luxury service levels and experiences for everyone who travels, and these awards are my favorite annual celebration of that. It was my honor to host such a prestigious event," said AGTA Host Dylan Ratigan, the former MSNBC host of "The Dylan Ratigan Show," a documentary film maker, best-selling author, CEO of US Medical Glove Company LLC and managing partner at Cortina Capital.
"It was wonderful to produce the grand return of the American Group Travel Awards this year," said AGTA Executive Producer Aioni Bashara. "HotelPlanner hosts such a special evening to benefit St. Jude Children's Research Hospital and this year was especially celebratory given the resilience of the hospitality industry in reimagining group travel."
The evening was generously sponsored by HotelPlanner.com, St. Jude's Children's Research Hospital, Meetings.com, Expedia Group, BWH Hotel Group, Choice Hotels, Wyndham Hotels & Resorts, Kolter Hospitality, PNC Bank, Daszkal Bolton, KPMG, Options Travel, Astrea Acquisition Corp., Radisson Hotel Group, ICR Strategic Communications & Advisory, Gunster, hotelbeds, Corpay, Sir Dudley's Custom Clothier, Gartel Art, and Libertine Contemporary Fine Art Gallery.
Images from the evening taken by Rodrigo Varela can be viewed here:
https://www.americangrouptravelawards.com/gallery
HotelPlanner has announced plans and filed a proxy to go public on NASDAQ via a 3-way SPAC merger with Astrea Acquisition Corp. and Reservations.com. To learn more, and to review the preliminary proxy statement relating to the transaction, visit http://www.hotelplanner.com/investors.
###
About HotelPlanner
HotelPlanner is a leading travel technology company that combines proprietary artificial intelligence capabilities, and a 24/7 global gig-based reservations and customer service network. HotelPlanner travel agents can customize all traveler hotel and accommodation needs from a single platform while providing localized advice. HotelPlanner is one of the world's leading providers of individual, group and corporate travel bookings, specializing in unique "Closed User Group" discount rates offered in unpublished private sale environments. Founded in 2004, HotelPlanner has enduring partnerships with the world's largest online travel agencies, well-known hotel chains, individual hotels, online wedding providers, ancillary lodging providers, corporations, professional and youth sports teams and franchises, universities and government agencies.
Learn more at http://www.HotelPlanner.com