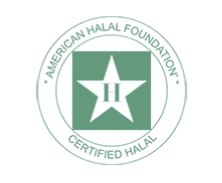 "By 2030, [Islam] is expected to rise to 30%...With an increase of halal consumers, the markets in western countries will see substantial growth and companies will expand to sell more halal products."
TAMPA, Fla. (PRWEB) July 30, 2020
American Halal Foundation has announced the release of their most recent article: 9 Interesting Statistics on Halal that Everyone Should Know. The article breaks down important facts and statistics that show the importance of this diet to those who practice the Muslim faith.
One of the reasons why offering halal dietary options is so important is because Islam is one of the largest religions in the world and expected to become the worlds largest religion by 2050. According to the Halal Foundation, "by 2030, [Islam] is expected to rise to 30%. The Islamic faith is prevalent in the Middle East, but many western countries including the United States are seeing an influx of Muslims who are halal consumers. With an increase of halal consumers, the markets in western countries will see substantial growth and companies will expand to sell more halal products."
The article breaks down the halal market at large and shows increasing popularity in this style of food.
To learn more about the halal food market, view the infographic here.
About AHF:
For over 1400 years, halal consumers have always found a way to adhere to their religious dietary requirements. As each century passed, the food landscape never stopped evolving. At every century's horizon, innovation changed the way food was produced, processed, handled, stored, and transported. This unparalleled industrialization presented a newfound challenge to the global economy and food and beverage globalization in traditionally halal food and beverage markets. It wasn't too long before the American Halal Foundation (AHF) stepped up to the plate (literally). AHF began certifying halal products and became a globally recognized and accredited organization whose symbol epitomizes integrity, authenticity, and wholesomeness to all 1.8 billion halal consumers. Today AHF certification provides companies around the world with a symbol of halal that gives consumers the utmost confidence in the food they eat.