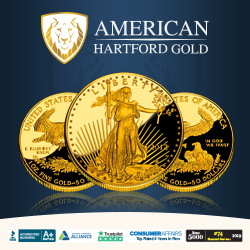 LOS ANGELES (PRWEB) March 15, 2021
American Hartford Gold is pleased to announce that the company is successfully continuing to meet the high demand from their clients amid the US Mint shutdowns.
American Hartford Gold continues to break records, with 2021 marking a monumental milestone for the company as they have delivered over $500 million and counting, in physical gold and silver to Americans.
January of 2021 also proved to be American Hartford Gold's strongest month in the history of their operations. The company was able to provide Americans with physical gold and silver to help protect their savings from financial uncertainty.
Despite the US Mint's ongoing actions and supporting statements to ration its sales of silver coins because of "continued exceptional market demand," American Hartford Gold remains relentless in its efforts to service its clients and fulfill their precious metals needs proudly.
In such times of economic turmoil and uncertainty, they have been able to adapt to the swift, ever-changing conditions thrown their way. Even during Black Swan events, their dedication towards fulfilling their client's needs has always remained their main focus as a company.
The need for innovation and change over the past unprecedented year, is how successful, service-minded businesses, like American Hartford Gold, continue to thrive.
With the sales of U.S gold bullion coins reaching levels of 258% in 2020 and silver demand up by 28%, it is correct to say that Americans were in dire need of a safe haven for their wealth.
The US Mint reported that heavy buying has continued in 2021 and with demand still ongoing– American Hartford Gold continues to meet those needs.
American Hartford Gold specializes in helping investors set up Gold IRAs (also known as gold bullion IRAs or self-directed IRAs) which allows investors to upgrade their retirement strategy by adding physical gold and silver to a tax-deferred retirement account. Investors receive only the highest quality gold and silver coins, offered at competitive prices with 100% customer satisfaction guaranteed.
ABOUT AMERICAN HARTFORD GOLD
American Hartford Gold is a family-owned and operated company in Los Angeles, CA which helps individuals and families invest in precious metals. This includes Gold, Silver and Platinum in both bars and coins. We provide both physical delivery to one's doorstep or inside of a retirement account like an IRA, 401K or TSP. The company's A+ rating can be viewed at bbb.org and its 5-star Customer Satisfaction Rating can be viewed at http://www.trustpilot.com.
American Hartford Gold is a trusted name that makes it simple for Americans to protect their savings and retirement using precious metals. Offering a wealth of precious metals market information and historical perspective that empowers both new and experienced investors.
American Hartford Gold has an A+ rating with the Better Business Bureau and has a 5-star customer satisfaction rating on multiple review platforms like Trustpilot and Google. Additionally, the Inc 5000 named American Hartford Gold as #74 among the fastest-growing private financial services companies in the USA. American Hartford Gold is a proud multi-year sponsor of NASCAR and is the only precious metals company recommended by Bill O'Reilly.
To learn more about the Gold IRA, investors can call 866-342-2257 or visit http://www.americanhartfordgold.com