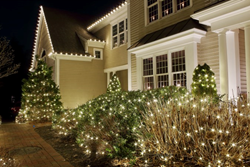 NAPERVILLE, Ill. (PRWEB) September 15, 2020
Summer is coming to a close, which can only mean one thing: the holidays are coming! American Holiday Lights is here to alleviate one of the most daunting tasks during the holiday season, installing and maintaining outdoor Christmas light displays.
American Holiday Lights has been offering its professional holiday lighting installation services in Illinois for a number of years and demand for their services has been steadily growing each year. Their holiday lighting installation and design options offer the perfect solution for homeowners that don't have time to set up their holiday lights, have difficulty handling the physical demands of holiday lighting installation (such as climbing up on tall ladders to get to the roof), or don't have all of the necessary equipment needed to complete a proper holiday lighting setup. It is also a welcome option for those that are simply looking for a new or more elaborate holiday lighting decorating scheme to welcome in the coming holiday season.
Scheduling your holiday lighting installation can be cumbersome if you wait until late-October or November. Often, spots fill up quickly with many quality service providers and you might be left out in the cold. For this reason, American Holiday Lights has opened its Christmas light installation season in September. Is this too ambitious? Apparently, not. Jeff Krall, the owner of American Holiday Lights, said, "We just opened our holiday lighting installation schedule, and it has been received well by our customers. We already have appointments booked for this season, and we've been busy working everyone in since we have limited slots available."
Krall went on to say, "We have a crew of Christmas light installers on standby. We can install Christmas lights as early as tomorrow!" While September may be too early to let your holiday joy shine, you can use American Holiday Lights Early Bird specials to lock in your preferred week to install. Acting quick has many benefits, and will it take one more task off your to-do list.
"We love this time of year and it shows in the effort we put into setting up holiday lighting displays for our Chicagoland clients," explains Krall. "Our holiday lighting design and installation services have become more popular year after year as people see the creativity with which we design our displays and the ease that our lighting and holiday display installation services offer those that want to enjoy the holiday season but that simply don't have the time or energy to make happen."
American Holiday Lights is the leading Christmas lighting installation company serving all of Illinois. With specialized training, attention to detail, and the best holiday decorating products on the market, their crew will handle your holiday light installation, and decorating from start to finish. Focusing on residential and commercial holiday lighting, they have worked with local large and small businesses as well as cities and municipalities. American Holiday Lights is a family-owned business that has served the western suburbs of Chicago for over 25 years. Visit AmericanHolidayLights.com for more information or to schedule a custom lighting design consultation, light up your home this holiday season.