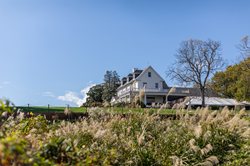 "River Farm is indeed a unique and special property and we are thrilled to now be receiving offers from entities interested in owning both the property and its legacy." - Terry Hayes, AHS Board Chair
ALEXANDRIA, Va. (PRWEB) January 11, 2021
The American Horticultural Society (AHS) is pleased to announce that it has officially begun receiving offers from prospective buyers interested in purchasing the nonprofit's historic property in Alexandria, Virginia. The pristine 27-acre River Farm was placed on the market in late 2020, with AHS setting January 4, 2021, as the date it would begin to receive offers from interested parties. No formal deadline for offer submissions has been established.
River Farm is located on the banks of the Potomac River and was once part of George Washington's original farmlands. The property includes open fields, beautiful gardens, sweeping views of the river, and a stately 1920's manor house which has served as AHS's headquarters since the 1970s.
The sale offers a once in a lifetime opportunity for a new steward to take ownership of River Farm. River Farm is listed for $32.9 million by Sue Goodhart of The Goodhart Group, Compass Real Estate. The listing price is based on fair market rates and was set following a competitive analysis of other properties for sale in the area. The AHS board will carefully review all offers submitted and hopes to identify a suitable buyer in the next few months. The ideal buyer will be a nonprofit, organization, or individual dedicated to preserving and maintaining the property's historic integrity.
"River Farm is indeed a unique and special property and we are thrilled to now be receiving offers from entities interested in owning both the property and its legacy," said Terry Hayes, AHS Board Chair. "We have had great interest from a number of potential buyers and welcome all interested parties to submit their offers in the coming weeks."
AHS, a national nonprofit dedicated to sharing the art and science of growing plants throughout the United States, plans to utilize funds from the sale to establish an endowment for their nearly 100-year-old organization, which has faced difficult economic challenges in recent years, including lost revenue in event rentals and AHS programming during the pandemic, and the costs of maintaining River Farm. An endowment will provide essential financial stability to the organization and allow it to continue and grow its programming across the country.
Details on the listing are available here. For inquiries, contact Sue Goodhart at sue@thegoodhartgroup.com or (703) 362-3221. For more information on the American Horticultural Society, please visit http://www.ahsgardening.org.
IMAGES AND VIDEO AVAILABLE HERE.