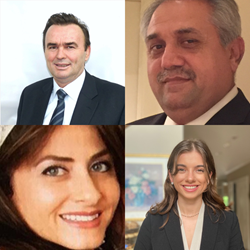 "We have a lot of work to do to advance the education system and this will be remembered for generations to come...thank you for trusting me in helping to make this world a better place. I will do my best to advance this mission."
LEONIA, N.J. (PRWEB) August 14, 2020
The American International School System Foundation announces the appointment of a new Chairman, new Secretary and two board members.
Sokol Bejleri is filling the role as Chairman for the board of the AISS Foundation and Anna Maroules is filling the role as Secretary. Masood A. Javed and Allegra Nokaj will be joining the AISS Foundation Board.
"We have a lot of work to do to advance the education system and this will be remembered for generations to come...thank you for trusting me in helping to make this world a better place. I will do my best to advance this mission," Bejleri said of his appointment.
Sokol Bejleri serves as Vice President of STV Group, an award-winning firm in New York City. Bejleri joined STV's Construction Management Division in 2010 and served as the lead project executive in multiple programs for the company, which is ranked among the country's top companies in a vast array of fields that include engineering management, consulting, education, corrections, rail and mass transit and more.
Previously, Bejleri had experience in oil production and was hired as the General Director of the Sheqishte Production Affiliation, where he diligently served until 1994. Valuing his hard work and dedication, the Albanian government appointed him as CEO of Albpetrol—Albania's largest and primary Oil and Gas Corporation. Mr. Bejleri remained at this position until 1996 and showed unprecedented success, making Albpetrol one of Albania's most profitable industries.
Bejleri ran a successful election for a seat in Albania's parliament in 1996 and was later appointed as Secretary of State on Mines and Energy, where he served until his departure to the United States in 1997. Bejleri has been an AISS Board Member since 2009.
Bejleri was awarded a Leadership in Energy and Environmental Design Accredited Professional certification by the U.S. Green Building Council and has invested time and energy in implementing environmentally friendly designs and policies.
Bejleri was born in Fier, Albania and graduated with distinction from the University of Tirana with a degree in Petroleum Engineering. He completed his Master's Degree at Aspen University in Colorado.
Anna Maroules is assistant to Dr. Munr Kazmir of Direct Meds, and serves in many capacities assisting Dr. Kazmir with his role as CEO. Prior to her role at Direct Meds, Maroules opened and operated Shift Auto Parts Inc., in 2012.
Maroules graduated from Adelphi University's Honors College, obtaining a Bachelor's Degree in Business Administration and Marketing.
In the interim, she spearheaded events such as Week Without Violence and Breast Cancer Awareness and served as a volunteer for the United Nations.
Maroules received a Paralegal Certification from Fairleigh Dickinson University in 2006 and later pursued an MBA specializing in Accounting and Finance, graduating from William Paterson University in 2009, while working full time at Rheuminations, Inc., a well-known Non-Profit Lupus Foundation in New York.
Allegra Nokaj is an intern assistant for Vice Chairman, Munr Kazmir, of the American Jewish Congress. Nokaj assists the Vice Chairman in fundraising and policy initiatives. She is also a freelance journalist and conducts daily stories for the online publishing platform Medium.
Previously, Nokaj interned at Dan Klores Communications in New York, NY and as a social media strategy intern at Soul Cafe. Soul Cafe is a non profit organization in Newcastle, Australia that seeks to place highly disadvantaged guests on a path towards increased safety, health and purpose.
Masood A. Javed is a Personal Assistant to Peter G. Peterson and Joan Joaz Cooney at Peter G. Peterson Management in New York, New York. He is Co-founder and Board Manager of the Fusion Muslim Community Center, where he hosted a national organization of "Youth Muslims" weekly gatherings.
Javed volunteers at the Muslim Community Center of Paramus, NJ, where he was heavily involved in Ramadan Iftar arrangement, daily prayer service and a Ramadan community gathering.
The American International School System Foundation is a U.S. non-profit teaching American values through primary education to children in Pakistan. By providing a world-class education to Muslim children, The American International School System Foundation is helping them become more prosperous, secure, democratic and able to stand up against violence and extremism.
For more information about the American International School System Foundation call (201) 383-6983 or visit https://americanschoolfoundation.org.