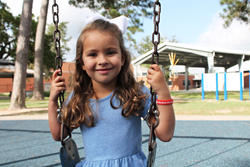 Despite precautions by schools, accidents do happen regularly. One of the ways that your child's allergy or condition can be immediately identified is with a medical ID.
HOUSTON (PRWEB) July 31, 2018
Leading medical alert jewelry manufacturer, American Medical ID, is kick-starting the back-to-school season with free medical alert bracelets for kids with food allergies. According to the Food Allergy Research & Education organization (FARE), food allergies affect up to 5.9 million children, or roughly 2 students in every classroom. Allergies to milk, egg, peanut, tree nuts, wheat, soy, fish and crustacean shellfish are responsible for most of the serious food allergy reactions across the country, including anaphylaxis.
"As parents prepare for the school year, it's important to consider any allergies or medical conditions that may require special attention when their child is at school," said Barbara Flowers, RN, McAllen, TX. "Despite precautions by schools to help prevent interactions with common foods such as peanuts and dairy, accidents do happen regularly. One of the ways that your child's allergy or condition can be immediately identified is with a medical ID."
In an emergency, a medical ID can speak for a child even when their parents or classroom teacher are not around. First responders are trained to look for a medical ID and they use this to obtain important health information so that they can deliver effective treatment fast.
With food allergy cases on the rise, many schools have developed training programs and annual certifications to educate teachers on how to identify and treat allergic reactions in an emergency. For example, epi-pen injections can be vital in saving a child's life during a severe allergic reaction when every second is critical.
"This initiative is aimed to help schools continue to think about how to provide a safe yet neutral environment for kids with food allergies," said Rick Russell, Founder & CEO of American Medical ID. "For parents, it's some peace of mind that in the event an emergency was to occur, the child has the best opportunity of early diagnosis and prompt treatment."
Through this initiative, the company is providing over 1,000 Write-N-Wear kids medical IDs for free. These medical IDs typically retail for $15.99. The kids medical ID features a broad white strip where parents can instantly write their child's medical condition or emergency contact. Since each child's medical condition is different, flexibility is offered to the parent to customize what should be written on the medical ID.
Organizations like the Asthma and Allergy Foundation of America (AAFA), Food Allergy & Anaphylaxis Connection (FAACT), Mayo Clinic, and FARE all recommend medical IDs for kids with food allergies.
This free kids medical ID bracelet can be obtained from the American Medical ID website, and those who receive these medical IDs are encouraged to share their photos using the #KidsLoveAMID hashtag on social media.
About American Medical ID
American Medical ID provides simple, inexpensive, yet vital tools that help people receive the best care and live safe, independent lives. For over 20 years, we have served the medical community and the public at large by offering a wide selection of medical ID jewelry that, in an emergency, allow medical professionals to give prompt, precise treatment. Founded by Rick Russell, President and CEO, American Medical ID is based in Houston, Texas, USA.