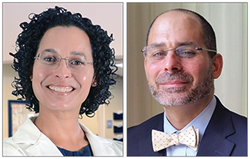 In part, AMI's mission is to enable medical practitioners to enjoy personal wellness while sharing the practice of Yoga Science with those they serve. – Renee Goodemote MD
AVERILL PARK, N.Y. (PRWEB) January 10, 2019
The American Meditation Institute (AMI) announced New York Capital Region physicians Renee Goodemote MD and Tony Santilli MD have been named Co-Chairs of AMI's Department of Medical Education. Both Santilli and Goodemote are active, longstanding members of AMI's Department of Medical Education, and are scheduled to share their experiences with other physicians at the 11th annual 30 CME "Heart and Science of Yoga" mind/body medicine conference on October 22-26, 2019 at the Cranwell Resort & Spa in Lenox, Massachusetts.
Dr. Goodemote is currently the medical director of the Saratoga Hospital Community Health Center, Saratoga Springs, New York. She recently served as chairperson of the Department of Family Medicine as well as President of the Medical Staff at Saratoga Hospital. Goodemote is board certified in Family Medicine offering the principles of Yoga Science to her patients in the form of a complementary pain management program. Goodemote has served as a member of the AMI Department of Medical Education since 2016.
"We are at a transitional point in medicine where increasing attention is being paid to the mind/body connection and it's importance in wellness," she observes. "The Yoga Science curriculum taught at AMI provides practitioners with tools to address all facets of wellness in a comprehensive and holistic manner. We strive to continue this work enabling practitioners to enjoy personal wellness while sharing this teaching with those they serve."
Dr. Santilli received his medical degree from the University at Buffalo, having completed his fellowship at Weill Cornell University and post-graduate training at Brown University. Santilli is board-certified in Pulmonary and Critical Care medicine in Schenectady, New York, and has served as a member of the AMI Department of Medical Education since 2014.
"We know that a large percentage of disease stems from lifestyle choices," says Dr. Santilli. "AMI's comprehensive curriculum focuses on practical self-care and self-awareness techniques. Part of AMI's Department of Medical Education mission is to share the mind/body medicine of Yoga Science with as many interested healthcare providers as possible, not only to help themselves, but also to share what they have learned with the patients they care for, ultimately benefiting literally millions of people. I'm honored to serve this vision and I look forward to continuing the important work of AMI."
Since its inception in 2008, Beth Netter MD served as Chair of AMI's Department of Medical Education, and will now serve as Chair Emeritus. During Dr. Netter's ten years of service, one of her most significant contributions was conducting a retrospective study documenting the health benefits of AMI Meditation. This study was instrumental in The Heart and Science of Yoga® curriculum receiving CME accreditation from the American Medical Association and Albany Medical Center. Because of this accreditation, hundreds of physicians and other healthcare providers have now completed The Heart and Science of Yoga® curriculum. Dr. Netter states, "It has been an honor to assist healthcare providers in improving the quality of their personal and professional lives. I have full faith that Dr. Goodemote and Dr. Santilli will bring the same integrity, creativity, warmth and compassion to AMI's Department of Medical Education that they bring to their medical practices."
Use this link to watch an additional video by AMI Department of Medical Education Co-Chair Tony Santilli MD https://youtu.be/JNK_ZATMwtI
-30-
About the American Meditation Institute
The American Meditation Institute is a 501(c)3 non-profit educational organization devoted to the teaching and practice of Yoga Science, meditation and its allied disciplines as mind/body medicine. In its holistic approach to wellness, AMI combines the healing arts of the East with the practicality of modern Western science. The American Meditation Institute offers a wide variety of classes, retreats, and teacher training programs. AMI also publishes Transformation a bi-monthly journal of meditation as holistic mind/body medicine. Call (518) 674-8714 for a mail or email subscription.
Media Contact:
Robert Washington
60 Garner Road
Averill Park, NY 12018
Tel: (518) 674-8714
Fax: (518) 674-8714