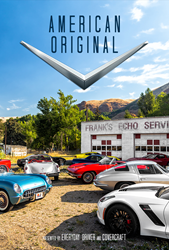 You really can't get any better than these guys. They always provide honest and straight forward reviews of cars. and best of all, they do once in a lifetime events such as this film where they drive GENERATIONS BACK TO BACK! Watch and you will NOT be disappointed.
PARK CITY, Utah (PRWEB) January 10, 2019
Paul and Todd of Everyday Driver ("50 Years Of The 911," "ICON") announce their 5th feature-length documentary, "American Original." In the film, the guys compare 13 cars across seven generations to explore the history, legacy, and contributions the Corvette has made to the world of automobiles.
Shot in a wide range of locations around Salt Lake City, UT, the film is simultaneously a Corvette retrospective and a travelogue of great roads and experiences.
"American Original" is available now for purchase or streaming on Amazon Prime Video and Vimeo.
Everyday Driver creates two seasons of television per year, premiering on the Motor Trend cable channel and then Amazon Prime Video. Todd and Paul also co-host the twice-weekly 'Car Debate' podcast on iTunes, one of the Top 10 Automotive podcasts in the world. You can find them on Instagram, Twitter, Facebook and everydaydriver.com