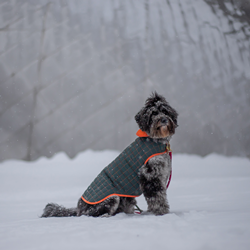 STAMFORD, Conn. (PRWEB) December 03, 2019
The American Pet Products Association (APPA) wants pet owners to keep their pets warm and safe this winter. This season means freezing temperatures, harsh conditions and fewer daylight hours. With temperatures dropping, pet owners should take extra precautions to protect their pets from the cold as the weather can cause itchy, chapped paws or worse, lead to hypothermia and frostbite. Additionally, Daylight Savings means many pet owners will have to walk their pets in the dark so staying safe under these conditions should be a priority. Below is a round-up of products manufactured by APPA members designed to help pets enjoy the winter season safely.
Keep your pet warm during walks with the Apus Coat by Pac & Lucia. This stylish reversible coat is water resistant, lined with faux lambswool, comes with adjustable Velcro closings and machine washable. Apus means "spirit of the mountains" in Quechua, the language from the Inca Empire. Plus, the orange color makes it easy for people to see pets in dark conditions.
Price: Start at $70.00
http://www.pacoandlucia.com
Puplight by H-T Pet provides owners and pets with a safe solution to walking dogs in dark conditions. With the limited sunlight during winter, pet owners are forced to walk their dogs in the dark. This light comes with an adjustable collar, shines 30-feet ahead and can be seen up to one mile away.
Price: Starting at $15.99
http://www.ht-pet.com
Snuggle your small animal with the Bonding Scarf Pouch by Exotic Nutrition. This pet-friendly accessory serves a dual function of keeping a pet owner warm but also allows them to take heir little friend on-the-go. The discrete air holes on the sides allow for ample airflow while the convenient zipper closure provides complete access to pets. Designed for rats, hamsters, gerbils, and other small pets.
Price: $28.95
http://www.exoticnutrition.com
Provide the ultimate paw protection for any season with Paw Defense Wax by Warren London Dog. Designed from a blend of vitamins and antioxidants, this wax soothes and protects your pup's paw pads from the elements year-round. It's easy to apply as needed, just gently massage into paw pads before any outdoor activity to keep any dog's pads nourished and healthy.
Price: $11.99
http://www.warrenlondon.com
Metro Pads® help keep dogs safe during the harsh winter months, providing a safe alternative for going to the bathroom instead of going outside in the snow or during a storm. These pads have six layers of absorption making them last longer and can be used more than once. Plus, there is a powerful attractant to help potty train even the most stubborn of dogs. Available in a variety of prints.
Price: Start at $32.99
http://www.metropaws.com
Additional information, product samples, images and interview opportunities available upon request.
The American Pet Products Association (APPA) is the leading trade association serving the interests of the pet products industry since 1958. APPA membership includes more than 1,300 pet product manufacturers, their representatives, importers and livestock suppliers representing both large corporations and growing business enterprises. APPA's mission is to promote, develop and advance pet ownership and the pet product industry and to provide the services necessary to help its members prosper. APPA is also proud to grow and support the industry through the following initiatives: Pets Add Life (PAL), Tony La Russa's Animal Rescue Foundation (ARF) Pets for Vets Program, the Human Animal Bond Research Institute (HABRI), The Pet Leadership Council (PLC), the Pet Industry Joint Advisory Council (PIJAC), Bird Enjoyment and Advantage Koalition (BEAK), and the Pet Care Trust. Visit http://www.americanpetproducts.org for more information.