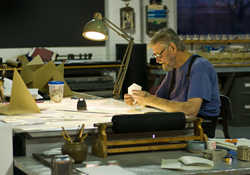 "In a world that prizes signature styles and instant recognition, Ginnever slows down and challenges the viewer's experience. He inculcates us with a nagging doubt, which becomes part of the pleasure of the work." — John Yau, hyperallergic, Jan. 13, 2013
PUTNEY, Vt. (PRWEB) June 19, 2019
Charles (Chuck) Ginnever, 87, American sculptor known for large-scale geometric sculptures, died of natural causes at his farm in Putney, Vermont, on June 16, 2019. Ginnever's earliest sculptures were constructed of found wood and steel, but by the late 1960s steel became the primary medium for his work. In his work, Ginnever was preoccupied with upending fixed notions of western perspective, challenging viewers to fully experience his sculptures, which seem to defy perception and continually change form as viewers move around them in space. In more recent works, Ginnever developed sculptural forms with no fixed orientation, creating identical sculptures capable of assuming numerous unique positions while retaining sculptural integrity, most notably his Rashomon sculptures, which can stand in as many as fifteen different positions.
Charles Ginnever was born in San Mateo, California, in 1931. He earned an A.A. degree at San Mateo Junior College in 1951. He studied in Paris at the Alliance Francais (1953), with Ossip Zadkine at the Academie de la Grande Chaumiere (1953-55), with printmaker Stanley W. Hayter at Atelier 17 (1955), and in Perugia, Italy, at the Universitá per Stranieri (1954). He returned to San Francisco to study at the California School of Fine Arts (1955-57; Bachelor of Fine Arts, 1957). In the Bay Area, he befriended fellow sculptors Manuel Neri, Peter Forakis, and Mark di Suvero.
In 1957 he and di Suvero drove cross-country to New York, and along the way talked through ideas for a new kind of public sculpture, freed from the pedestal and dynamically engaged in space. After arriving in New York, Ginnever continued on to Ithaca, where he taught art classes at Cornell University while completing graduate studies (1957-59; Master of Fine Arts, 1959). He later taught at Pratt Institute, Brooklyn (1963); New School for Social Research, NY (1964); Brooklyn Museum School (1964-65); Newark School of Fine and Industrial Art (1965); Orange County Community College, Middleton, VT (1966); and Windham College, Putney, VT (1967-74), where he headed the art department.
Ginnever's work was featured in solo and group exhibitions since the mid-1950s, beginning in 1955 at the Six Gallery in San Francisco (where Allen Ginsberg first read "Howl" that same year). He first exhibited in New York at Martha Jackson Gallery in 1960, followed in 1961 by his first solo exhibition, at Allan Stone Gallery. In the mid-1960s he frequently showed at New York's Park Place Gallery. In the experimental New York artist environment of the 1960s, Ginnever participated in and/or organized several "Happenings," creating sculpture dances with Eva Hesse, Tom Doyle, Peter Forakis, Allan Kaprow, and others for the Ergo Suits Carnival in Woodstock and Bridgehampton, New York (1962); the Fluxus Festival at George Segal's New Jersey farm (1963); Dayton Art Institute (1966); and Windham College Carnival in Putney, VT (1969). In the 1970s his work was represented by Paula Cooper Gallery, New York; he subsequently showed in New York at Max Hutchinson Gallery, and at Marlborough Gallery. While exhibiting with Gerald Peters Gallery in Santa Fe, he began working with Gayle Maxon Edgerton, GME/LLC, who has continued to represent his work in recent years.
In 2018, Ginnever's work was featured in an exhibition at Clarinda Carnegie Art Museum, Clarinda, IA, with an accompanying catalogue, and outdoor installations of fifteen large-scale sculptures at parks and other public locations in Clarinda and in Lincoln, NE, sponsored by Karen and Robert Duncan, whose vast sculpture collection includes numerous works by Ginnever. In 2013-14, three of Ginnever's large-scale sculptures were exhibited at New York's Riverside Park. Other noteworthy installations included Dag Hammarskjold Plaza Sculpture Garden, NY (1972); Sculpture Now, Inc., NY (1975); Long Beach Museum of Art, CA (1978); ConStruct, Chicago (1979, 1981); Storm King Art Center, Mountainville, NY (1980); Max Hutchinson's Sculpture Fields, Kenoza Lake, NY (1986); Esprit Sculpture Garden, San Francisco (1987); Cantor Visual Arts Center, Stanford University (1999); Brattleboro Museum, VT (2002); MOVA (Museum of Visual Art), Santa Rosa, CA (2003); ART OMI, Ghent, NY (2003-05); Wooster Art Space, NY (2004); San Jose Institute of Contemporary Art, San Jose, CA (2012); City of San Mateo, CA (2016), and others.
Awards included a California School of Fine Arts Sculpture Award (1957); John Simon Guggenheim Fellowship (1974); National Endowment for the Arts Individual Artist Grant (1975); Pollock-Krasner Foundation award (1998, 2004); Lee Krasner Foundation Lifetime Achievement Award (1999-2001); Gottlieb Foundation Emergency Grant (2004); and Walter Cerf Award for Lifetime Achievement, Vermont Art Council (2007).
Charles Ginnever's works are in the collections of Cantor Arts Center, Stanford University; Hirshhorn Museum and Sculpture Garden, Washington, D.C.; Laumeier Sculpture Park, St. Louis; Metropolitan Museum of Art, New York; San Francisco Museum of Modern Art; Storm King Art Center; Walker Art Center, Minneapolis, and many other museums and sculpture parks. Commissions included public sculptures for the St. Paul Courthouse, St. Paul, MN (1976); Walker Art Center (1976); City of Houston, TX (1977); University of Michigan, Ann Arbor (1977); State University of New York, Albany (1978); University of Houston, TX (1978); Virlane Foundation, K&B Plaza, New Orleans (1979); City of Dayton, OH (1980); City of Charleston, WV (1980); State University of New York, Buffalo (1981); Hurd Development Corporation, Dallas (1983); Hewlett-Packard Corporation, Palo Alto, CA (1985); Koll-Bernal Associates, Pleasanton, CA (1987); and Voigt Family Foundation, Geyserville, CA (2005).
In 1996 Ginnever's sculpture Nike was presented by President Bill Clinton as the President's Choice, U.S. gift, to the APEC Sculpture Garden, Manila, Philippines. In the summer of 2003, much of Ginnever's early work and documentation was destroyed by a fast-moving grass fire in Petaluma, California. He moved to his farm in Putney, Vermont, where he continued to make works until earlier this year.
Ginnever is survived by his daughter Jodi Ginnever and her husband Dorian Vernacchio of Los Angeles, his grandson Atticus, and step-granddaughter MacKenzie Vernacchio of San Antonio, TX, and his daughter Chloe Ginnever of San Francisco. He remained close to nieces Anne Haycock Aguirre (Carlos and family), and Gigi Beebe (Thad) of Denver; former spouses Ronnie Ginnever of New York, and Susan Prather Ginnever of Indianapolis; friend David Rohn of Putney; and friend and assistant Frank Sansone, Bellows Falls, VT. He was predeceased by his parents, Charles Albert and Helyne Ruth Baumgart Ginnever, and sister Caroljean Haycock.
For images, visit https://www.dropbox.com/sh/c44v9u5rr031l4r/AAAPfCPA88ThfDWngLUXZRFya?dl=0
For more information, visit chuckginnever.com, or https://en.wikipedia.org/wiki/Charles_Ginnever