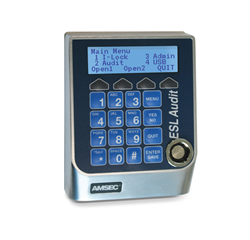 The ESL Audit transforms the traditional way people think of locks. It's an advance to safe security that the industry needs. And the fact that it can be used on all safes, including pharmacy, cash, and jewelry, makes it a valuable, yet practical investment, noted Robert Sallee, VP Sales
FONTANA, Calif. (PRWEB) October 15, 2020
American Security Products, known worldwide as the provider of security safes and security solutions to the consumer and commercial marketplace, enhances their Electronic Safe Lock (ESL) Audit and earns UL Type 1 certification.
The ESL Audit has an integrated USB Port which makes it easy to manage safe access. The lock contains a large backlit 4-line LCD display, allows uniquely configurable privileges and electronic keys for up to 40 users, and contains a 5,000-record audit trail stored inside the safe. With the added support of up to four locks combined with audible and visual feedback this lock provides advanced solutions for today's needs.
The ESL Audit will support dual control and armored car pickups, provides time delay to deter robberies and time lock restricted access to defined operators. Optional features on this solution include door sensor technology if the door is left open, back-up database secured inside the safe and the flexibility to retrofit most mechanical or electronic locks. The ESL Audit makes it easy to manage safe access, system configuration, and timing settings.
"The ESL Audit transforms the traditional way people think of locks. It's an advance to safe security that the industry needs. And the fact that it can be used on all safes, including pharmacy, cash, and jewelry, makes it a valuable, yet practical investment," noted [Robert Sallee, Vice President Sales].
American Security's products are fully backed by 24/7/365 technical support, and a nationwide network of technicians available when you need them. For more details about American Security's ESL Audit, contact us today.
About AMSEC
American Security Products (AMSEC) is a global leader of security safes and security solutions, protecting the assets of clients throughout the world. American Security Products offers an extensive array of security safes and consulting services, delivered with the highest degree of quality, integrity, and responsiveness. American Security Products got its start in late 1940, housed in a small building in Paramount, California, where founder, Glenn Hall set up shop with little more than a welder, a lathe, and a desire to build strong, reliable safes.
About UL
As the global safety science leader, UL helps companies to demonstrate safety, enhance sustainability, strengthen security, deliver quality, manage risk, and achieve regulatory compliance. UL has been testing and certifying products since 1894 and writes the Standards for many products and are dedicated to safety and integrity.