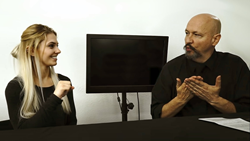 Teaching ASL visually just makes sense.
SACRAMENTO, Calif. (PRWEB) November 17, 2020
Dr. Bill Vicars, a tenured professor of American Sign Language (ASL) and Deaf Studies at Sacramento State University, started putting his lessons online for free as a way to make it easier for students and parents of Deaf children to learn sign language. The lessons, which are taught "immersion style" without the use of voice or spoken English, caught on with the public and his subscriber base exploded to over a quarter-million subscribers.
"I was born hard of hearing and as time went on I became more and more Deaf," Vicars explains at his website, Lifeprint.com. "Teaching ASL visually just makes sense. It helps students flip the switch in their head to actually start thinking in sign language."
Even though teaching online is relatively new, Vicars has been teaching ASL for decades. "I started teaching ASL when I was a sophomore in college," he recalls. "I was literally a college instructor before graduating from college. I paid for much of my schooling by teaching in the evenings as an adjunct instructor at Weber State University. I got my start after deciding to pick up an easy 'A' by taking an ASL class (since I already knew ASL – having learned from a Deaf lady in my hometown when I was young). During the class I kept thinking I could do a better job of teaching it than the current instructor. So I approached him after class and it turned out that he didn't actually want to teach. His regular job was working in the University's Services for Disabled Students office and he was only teaching the class to keep it from being cancelled. So I volunteered to teach it the next semester for free. My evaluations were excellent so the administration decided to let me teach as an adjunct instructor."
Vicars taught at Weber State for around ten years before moving to Texas to pursue a masters degree in Deaf Education and then a doctorate in Deaf Studies from Lamar University. "I knew I was going to need a graduate degree if I was ever going to be hired full-time at an accredited university" he explained.
The extra schooling paid off for him when he was hired as a full-time instructor for the ASL program at Sacramento State where in addition to his regular teaching duties he started teaching online ASL classes through the University's College of Continuing Education. "It was probably the first college-level ASL course offered totally online by an accredited university," Vicars pointed out. "That was around 2004. These days teaching ASL online is becoming the new normal but back then it was rather revolutionary."
This was pre-YouTube which didn't start until 2005. "At first I just posted lesson videos to my website," notes Vicars, "but at the beginning of each semester the site would crash due to the volume of data from all the video. Eventually I decided to set up a YouTube channel (at https://YouTube.com/billvicars ) and move the lesson videos there. It was a really good decision since it exposed my work to a much larger audience where it took off and has been growing rapidly ever since.
For a sample lesson video, (with over a million views) see:
https://youtu.be/DaMjr4AfYA0
You can check out his website at https://Lifeprint.com