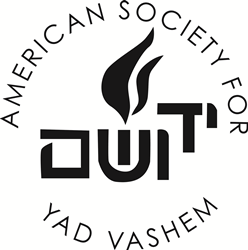 LOS ANGELES (PRWEB) May 14, 2019
The American Society for Yad Vashem (ASYV) - Western Region, located in Los Angeles, will hold its annual Benefit Gala on May 20, 2019, from 6:30-9:30 pm at The Beverly Wilshire Hotel, in Los Angeles. Produced in conjunction with the Jewish Life Foundation, this year's Gala is titled, "Remembering the Past: The Challenges of the Future".
The Gala will benefit ASYV's ongoing efforts in education, commemoration, research, and documentation, as well as the Jewish Life Foundation's broadcast projects on JLTV, the first and only 24/7 Jewish-themed television channel. It will also help fund the new documentary, "Holocaust Survivors: They Helped Build America".
Awards presented to the Gala's 2019 honorees will include: the Corporate Service Award to Gibson Dunn and Jesse Sharf, the Courage in Public Service Award to Michael Signer, and the Creative Justice Award to Guy Nattiv (2019 Academy Award winner for his live-action short film, "Skin.").
Attendees will include: Gala Chair Meyer Gottlieb; U.S. Special Envoy to Monitor and Combat Anti-Semitism, Elan Carr; and the founder of JLTV, Phil Blazer. Representing Yad Vashem will be Chairman Leonard A. Wilf; Executive Director Ron B. Meier; and Director of Institutional Advancement William S. Bernstein.
Since its founding sixty-six years ago, Yad Vashem has become synonymous with Holocaust remembrance throughout the world. It is the ultimate source for Holocaust education, documentation, commemoration and research. From the Mount of Remembrance in Jerusalem, Yad Vashem's integrated approach incorporates meaningful educational initiatives, groundbreaking research and inspirational exhibits. Its use of innovative technological platforms maximizes accessibility to the vast information in the Yad Vashem archival collections for an expanding global audience.
Yad Vashem is at the forefront of unceasing efforts to safeguard and impart the memory of the victims and the events of the Shoah period; to document accurately one of the darkest chapters in the history of humanity; and to grapple effectively with the ongoing challenges of keeping the memory of the Holocaust relevant today and for future generations.
The American Society for Yad Vashem (ASYV) was established thirty-eight years ago by a group of dedicated Holocaust survivors to advance the crucial efforts of Yad Vashem through Holocaust education, traveling exhibitions, programming for the next generation, and philanthropy. Since its establishment, ASYV has grown from a handful of dedicated members to hundreds of thousands of passionate supporters throughout the United States.
American Society for Yad Vashem 2019 Benefit Gala in Support of Yad Vashem
DATE:
Monday, May 20, 2019
6:30pm-9:30pm
LOCATION:
The Beverly Wilshire Hotel
9500 Wilshire Blvd
Los Angeles, CA 90212 US
R.S.V.P.
424-273-4460
Hermine(at)yadvashemusa.org
To purchase sponsorships or ticket packages:
https://tinyurl.com/y39yd546
For additional information:
American Society for Yad Vashem
212.220.4304 (National Office)
424.273.4460 (Western Region Office)
info(at)yadvashemusa.org