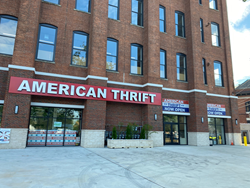 No matter if you are a first-time thrift store shopper or a thrifty expert, customers will discover new treasures at excellent values
FT. LAUDERDALE, Fla. (PRWEB) July 15, 2020
American Thrift Stores, a leading provider of low-cost vintage, everyday and designer brands for the entire family, today announced the opening of its newest store – and first in New Jersey – at 90 Dayton Avenue, Passaic, NJ 07055.
Located across the street from Home Depot in the 90 Dayton Avenue Plaza, the new, 34,000-square-foot store typically carries a treasure trove of 75,000 items with more than 10,000 new pieces on the showroom floor each day, including:

Designer clothing, shoes, handbags, purses and other accessories from the world's most well-known brands such as Gucci, Louis Vuitton, Prada, Chanel, Michael Kors, Kate Spade and more
Luxurious bedding, curtains and area rugs from the biggest names in home decor
Top-of-the-line flat screen TV's, computers, audio equipment and microwaves
Fine jewelry, art, antiques and collectibles
Name-brand household goods and small home appliances
Popular toys and sports equipment
Best-selling books, CDs and DVDs
According to Nick Jenette, the store manager, "No matter if you are a first-time thrift store shopper or a thrifty expert, customers will discover new treasures at excellent values." For example, American Thrift Stores offers top bargains every week of the year through the Company's:

Everyday Sales – 50% off select items everyday
Coupon Day – When you shop on Thursday – Sunday, you will receive a coupon on your receipt for $5 off every $25 in purchases to use the following Monday
Senior Citizen's Day – 50% off most items on Wednesdays (for customers 50 and up)
Customer Appreciation Day – 50% more rewards points on Thursdays (for members)
Happy Hour – 50% off most items from 4:00 p.m. – 8:00 p.m. on Fridays
Thrift Shop Day – Special offers for National Thrift Shop Day in August
Further, the Company takes great pride in its industry-leading rewards program in which customers can save even more money while also receiving special offers.
"For 23 years, American Thrift Stores has been committed to serving our communities, even during periods of financial uncertainty," Jenette said. "Today's unique situation with the COVID-19 pandemic is no different. It is our hope that offering a broad range of products at affordable prices will help local residents during this challenging time. I know that our associates are eager to serve their old friends and new neighbors in a safe environment."
The store in Passaic employs about 30 well-trained and friendly associates, all of whom are from the local area. Store hours are Monday through Thursday from 10:00 a.m. to 7:30 p.m., Friday from 10:00 am to 8:00 p.m., and Saturday and Sunday from 10:00 a.m. to 7:00 p.m. This location can be reached by phone at 609-901-3200.
Please note that all American Thrift Stores follow local guidelines concerning face coverings and social distancing, and have instituted safety practices to protect customers and employees from the spread of COVID-19. A more traditional grand opening celebration will take place at a future date, once the state is fully reopened.
About American Thrift Stores
Founded in 1997, American Thrift Stores employs more than 200 associates in six convenient locations, including four in Florida (Hollywood, Lauderhill, West Palm Beach and Lake Worth), one in New York (Baldwin on Long Island) and one in New Jersey (Passaic).
Each store has clothing, accessories, household goods, electronics, furniture and more – all at excellent values. The Company offers top bargains every week through daily sales, special events and an industry-leading rewards program.
To learn more about American Thrift Stores, please visit our website or follow us on Facebook and Instagram.