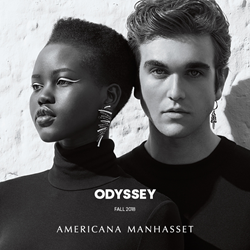 MANHASSET, N.Y. (PRWEB) October 01, 2018
Fall ready-to-wear, accessories and jewelry from the most coveted brands in the world are captured in a high style picture book starring top models Adut Akech and Gabriel Kane Day-Lewis. Photographed, produced and styled by Laspata DeCaro, the campaign was shot throughout the Greek island of Santorini, and features the pristine white architecture and dramatic views that this island is renowned for.
In conjunction with the still images and the fashion campaign, Americana Manhasset debuts a trio of short films, one featuring each model and one that reveals a behind-the-scenes glimpse of the fast-paced photo shoot. The short films starring Akech and Day-Lewis help to launch a charitable social campaign centered on #IAMAmericana. Through a creative combination of voice-overs and visuals, the models express who they are as unique individuals, each on their own odyssey. Adut Akech, born during a journey from South Sudan to a refugee camp in Kenya, currently lives in Brooklyn and is one of the fashion industry's most in-demand talents. She has recently begun working for the United Nations High Commissioner for Refugees. Gabriel Kane Day-Lewis, born to actor parents in New York, raised in Paris and now covered in tattoos, found his calling as a musician early on, playing the piano and guitar from the age of eight.
There will be corresponding social posts featuring both models and Americana will be asking friends, followers and fashion partners to snap a photo or video revealing who they are. Americana Manhasset will donate $1 to charity for all such posts when they use the hashtag #IAMAmericana. There will be five benefitting charities representing a range of causes.
Americana's Fall Book is direct-mailed to 115,000 targeted households. The images and videos are being featured in print ads in publications such as The New York Times, T-Styles magazine and The World Journal newspaper, as well as in various digital and social media ads. The campaign is being shown prominently throughout the season on americanamanhasset.com and on Americana social media outlets.
"We took inspiration from our surroundings." said Charles DeCaro. "The historic and literary importance of Greece juxtaposed with the drama of the volcanic backdrop and the clean modernity of the island's architecture all played a part in forming the concept. The graphic, square format that we used for Americana's Spring 2018 campaign felt right again here. As always, while we had a clear editorial voice and a strong vision, it is the fashion that remains the focus. We shoot an appropriate image for each brand, from Chanel and Gucci to Rag & Bone and Zimmermann, but each photograph also works as part of the whole."
Americana Manhasset is a premier collection of over 60 fine shops, including Hermès, Chanel, Louis Vuitton, Gucci, Cartier, Ermenegildo Zegna, Van Cleef & Arpels, Bottega Veneta, Hirshleifers, Ralph Lauren, London Jewelers and more, all within a unique outdoor environment designed by renowned architect Peter Marino and landscape designer Oehme van Sweden. Americana Manhasset offers a complimentary Personal Shopping Service, a remarkable luxury fashion and gift resource. Located on Long Island's beautiful North Shore, Americana Manhasset is 20 miles from Manhattan and 50 miles from the Hamptons.
For more information please visit americanamanhasset.com. Follow Americana Manhasset on Instagram and Twitter, subscribe to our YouTube channel, and like our Facebook page!