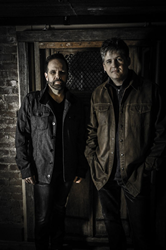 ...we both knew that something pretty cool was happening.
NASHVILLE, TN (PRWEB) December 06, 2018
There's a reason why Dave Romero and Chad Little of Midwest Meets Manhattan might look a little familiar. The Americana-Rock duo is a reboot of their former group, CO3, which found significant success in the Christian market a decade ago with their remarkably rich harmonies and signature pop-country sound.
2018 found Dave and Chad reunited and creating new music, with producer Sal Oliveri (Parmalee) at the helm. The first two singles, "Restored" and "The Place," are available now at all digital platforms (iTunes, Amazon, Spotify, etc.) from Ethos Music.
The duo first teamed up in 2001, when a chance meeting at a small Oklahoma coffee shop found them trading songs on their guitars. Dave was an established worship leader and Chad spent a considerable amount of time as lead guitarist, band leader and songwriter for Carrie Underwood, prior to her worldwide launch on American Idol.
"Dave just started playing worship songs that I didn't even know," recalls Chad. "But I picked up the harmonies and by the end of the night, we both knew that something pretty cool was happening."
Before long, they were writing and recording, performing wherever they could, and they launched their own recording studio. A chance meeting in Nashville with producer Rick Lloyd (Third Day) led to sessions with some of Nashville's top studio musicians, and CO3 was born.
With a worldwide distribution deal in place, the duo's own Flagship Records released their debut album, Determined, which garnered two Top 20 singles. With a promotional team to rival major labels, they embarked on a non-stop promotional tour of North America, filled with in-store appearances, radio visits, and television appearances from coast-to-coast. Even the mainstream media took notice, with CMT's Chet Flippo declaring, "If Tim McGraw or Kenny Chesney were singing Christian music, this is what it might sound like.... Bravo."
But the road eventually took a toll, and the guys eventually returned to other passions, and desired more time with their young families. Over the next decade, Dave would build Tru Church in Manhattan, Kansas, while Chad founded Ethos Custom Brands, a high-end leather goods company based in Sallisaw, Oklahoma.
But by the fall of 2015, music was calling again. Dave and Chad began to think about a potential reboot and in 2017, they sang together for the first time in nearly a decade. It was like they had never stopped.
Dave and Chad are currently in the studio recording new music, with additional singles to be released in early 2019.
For more information, visit http://www.midwestmeetsmanhattan.com.