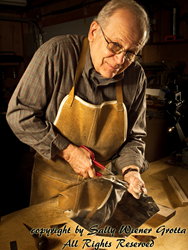 Every once in a while great artists are able to transcend.... Sally's vision is grand... [and] ... reflected in the warmth she portrays in the people she photographs and the world she captures.
(PRWEB) April 18, 2014
Famed photographer and storyteller Sally Wiener Grotta has created the American Hands project, a celebration of those artisans who are keeping the old trades alive, such as a blacksmith, spinner, bookbinder, rug-maker and many others. "American Hands is a narrative," she explains, "not only about who we are, but who and what we were, how our culture developed, one person, one skill at a time, and what it means to us now and into the future."
In this ongoing project, Sally is capturing the pictures and stories of people who use their hands in traditional ways, making functional objects that are, today, typically done by machines, if at all. She spends considerable time in a wide variety of artisans' workshops, returning over the months and years, to follow the various stages of their creations. Sally also spends hundreds of hours in her studio, interpreting, crafting, printing and mounting/framing each individual picture.
Sally's natural down-to-earth style helps artisans warm to her camera, developing personal relationships that allow her to share in intensely private and often poignant creative moments, as well as spontaneous expressions of joy. Her narrative series of portraits capture both the fascinating craft processes and the individual personalities of the craftspersons.
"Fantastic and inspiring."
"Powerful"
"Poetic, serene, and honest"
American Hands has hit a resonant chord with the public and critics alike. To date, over 300,000 individuals have attended an American Hands exhibit, in venues large and small, from the East Wing Rotunda of the Pennsylvania State Capitol building to tiny community libraries. Audiences of her numerous American Hands presentations -- from elementary school-age kids to senior citizens, university students to museum goers -- respond both intellectually and viscerally to Sally's vision and stories.
Every American Hands exhibit is different, as Sally travels the country creating new photographs of additional artisans. Exhibits and presentations are currently scheduled through 2016, with more under discussion. "I'll take American Hands anywhere people are curious about our history, our culture, and our native human potential to create," Sally said.
GET INVOLVED IN AMERICAN HANDS
You can help American Hands succeed in recording, energizing, preserving and presenting our heritage as a people who have always worked with our hands to shape our society. Here are some of the ways you could get involved in this meaningful project:

Sally welcomes invitations for exhibits, lectures and artist-in-residencies, as well as suggestions of additional craftspeople. Please remember that her focus is on those artisans who practice the functional, concrete skills that were required by their community, rather than those that were done primarily for artistic purposes.
Please help spread the word about American Hands. Tell your friends, family and associates. Blog, tweet and link to American Hands, as well as on Facebook. (On Twitter, the ID is @SallyWGrotta, and the hashtag is #AmericanHands.)
Give a tax-deductible donation to help document, preserve and share these great stories, and remind our nation to continue to respect and support the people keeping such skills alive.
You can contact Sally about your ideas for helping American Hands through the website Contact Form.
HONORS & OVATIONS FOR AMERICAN HANDS
American Hands has received about 40 grants, and has been adopted under the fiscal sponsorship of the Artspire program of the New York Foundation for the Arts (one of the most respected arts organizations in the country). Sally also received a standing ovation from the floor of the Pennsylvania State Senate for her work on the project. Sponsors of American Hands include Pentax, Hewlett Packard, Smugmug and various private donors.
ABOUT SALLY WIENER GROTTA
Photographer, digital artist, author, columnist and lecturer, all describe what Sally Wiener Grotta does. But to truly understand who she is, one must also apply the title Storyteller to her list of accomplishments and achievements. Whether it's a picture or an article, a workshop or a book, Sally's primary purpose, above and beyond communicating concepts, ideas and information, is to tell a good story that will entertain, amuse and enlighten.
Such is Sally's renown within the digital imaging and photography realm, that she is generally referred to by her first name. A pioneer in digital art, Sally developed new creative techniques and styles in the medium when it was still in its infancy. Numerous other experts in digital photography and imaging have acknowledged that they first learned the basics from Sally's books, articles and/or lectures. An Xrite Coloratti, Sally has been recognized as one of "The World's Top Professional Photographers."
A dynamic speaker and personality, Sally is available for interviews and appearances. You may contact her through the American Hands website or through Lori Ryan, the American Hands Events Coordinator (Lori at Grotta dot com).