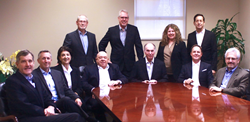 Santa Barbara, CA (PRWEB) August 09, 2017
American Riviera Bank, which recently received the "Super Premier" performing designation by The Findley Reports, the highest possible rating for a California community bank to attain, recently opened a new loan production office in Paso Robles, CA. The new office is located at 205 Oak Hill Road, Suite 106, in The Highlands Shopping Center.
The loan production office will provide business, commercial real estate, agricultural, residential mortgage, construction, and Small Business Administration loans. This will be American Riviera Bank's first office in San Luis Obispo County. The loan production office will be replaced by a proposed full-service retail branch slated to open in late 2017 or early 2018. American Riviera Bank expects to open more branches between Santa Barbara and Paso Robles in the future.
"In the last five years, San Luis Obispo County lost all of its community banks to mergers. There are no longer any banks headquartered in San Luis Obispo County," said Jeff DeVine, President and CEO of American Riviera Bank. "Yet, we know that the community desires the type of flexible and responsive banking experience that American Riviera Bank delivers. We are very pleased to have hired an excellent team of experienced, local banking leaders for our Paso Robles office."
Neil Amarante will serve as Senior Vice President-Regional Credit Manager. Amarante has a 16-year background in banking and agriculture, with the last 12 years spent in senior community bank leadership positions in Paso Robles. He is a member of the Atascadero Kiwanis Club and is a graduate of Cal Poly San Luis Obispo and the Pacific Coast Banking School.
Ann Cochrane will serve as Vice President-Commercial and Ag Banking Officer. Cochrane has been a business and agricultural lender in Paso Robles since she graduated from Cal Poly San Luis Obispo in 2007. She was named "Cattlewoman of the Year" in 2014 by the County CattleWomen's Association, is a member of the Rotary Club of Paso Robles, and volunteers her time at numerous other local organizations.
Paul Tognazzini will serve as Community Relationship Officer. Tognazzini has served in senior community bank leadership positions over his 40-plus-year distinguished banking career. He is a board member for the Cancer Support Community of the Central Coast, active in the County Cattlemen's Association, a supporter of Jack's Helping Hand, a member of the Agribusiness Tour Committee for the Paso Robles Chamber of Commerce, a member of the Native Sons of the Golden West, and a member of the Paso Robles Elks Club. He is also a graduate of Cal Poly San Luis Obispo.
The new office will also bring local employment opportunities as the Bank expects to have a staff of eight in Paso Robles by the time the full-service branch opens.
About American Riviera Bank
American Riviera Bank is a full-service community bank focused on serving the lending and deposit needs of businesses and consumers on the Central Coast. The state-chartered bank opened for business on July 18, 2006, with the support of local shareholders. Existing branches are located at 1033 Anacapa Street in Santa Barbara, 525 San Ysidro Road in Montecito, and 5880 Calle Real in Goleta. As of March 31, 2017, the Bank was rated five stars by BauerFinancial. For more information, please call (805) 965-5942, or visit http://www.americanrivierabank.com.
About the NALA™
The NALA offers small and medium-sized businesses effective ways to reach customers through new media. As a single-agency source, the NALA helps businesses flourish in their local community. The NALA's mission is to promote a business' relevant and newsworthy events and achievements, both online and through traditional media. The information and content in this article are not in conjunction with the views of the NALA. For media inquiries, please call 805.650.6121, ext. 361.