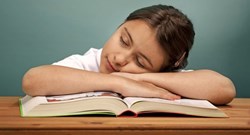 Seattle, WA (PRWEB) December 03, 2013
Sleep proves vital for essentially every living creature, and recently the subject of rest has been a key focus of a broad range of research aiming to better understand subject. One recent study from the Boston College looked at student habits around the world, presenting some interesting findings which are discussed in the latest article from the blog Sleep Junkie, titled "US Students Most Sleep Deprived".
The blog begins by introducing the study and offering an overview of the key findings. As reported by the BBC, Boston College researchers derived the results from the 2011 Trends in Mathematics and Science Study which included surveys of teachers, students, and parents covering over 900,000 pupils in over 50 countries. In addition to assessing academic performance, the study also looked at other influential factors like income and sleep..
One key finding according to researchers was that sleep deprivation among students did appear to impact math and science performance, with wealthy and technologically-advanced societies more likely to have less-rested populations. According to the study, the U.S. has the most sleep-deprived students of all 50 nations, followed by New Zealand, Saudi Arabia, Kuwait and Australia. On average, a lack of rest impacted 57% of all 13 to 14 year-olds in the study, however 80% of U.S. students in the same age group were affected, showing the significance of the issue.
Adding to the survey results, the article goes on to discuss information from experts on how much rest students are supposed to get as well as healthy habits and tips for improving sleep hygiene. Based on information from the National Sleep Foundation, the article highlights that children are supposed to get a minimum of 9 to 10 hours of rest depending on age. Research concludes that students require more rest than adults due to growing bodies, and also because rest is a crucial component of learning and information retention necessary for educational development during adolescence.
Sleep Junkie reports that researchers in the study and in an accompanying article from the BBC repeatedly highlighted electronics as a key distraction for teens, and also touched on biological changes that cause many adolescents to fall asleep and wake later than other age groups. Although teens need more rest, the blog acknowledges the barriers such as busy schedules and early school start times which often contribute to tired kids.
The article concludes with a few helpful suggestions that students and people of all ages can apply, citing awareness as a key factor in improving slumber quality. The tips offered include establishing and unplug and disconnect rule before bed for electronics, eating well, practicing stress management techniques, making sure bedrooms and mattresses are comfortable, and discussing benefits with teens in relevant ways.Links to several helpful resources are included, and the website also features several other articles on sleep topics and mattresses for interested readers.
SleepJunkie.org is a blog dedicated to all things sleep, from mattresses, bedding, to research and more. With a focus on making mattress research easier, the website offers independent assessments and reviews of the latest brands and technologies. Readers also enjoy timely updates on mattress-related news and expert help in selecting the best mattress to fit their needs and lifestyle.