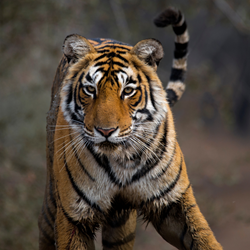 A new documentary slated for release in December, The Hidden Tiger, was produced by Rescue Doc Films in partnership with the Baskins and many other tiger experts worldwide. Unlike Tiger King, the documentary The Hidden Tiger shines a spotlight on a very real and uniquely American tragedy
ATLANTA (PRWEB) December 29, 2020
A shocking fact to consider: There are now more tigers living in the backyards, roadside attractions, theme parks, zoos, and sanctuaries in the United States than there are in the wild.
Under-regulated, over-bred, and exploited, these apex predators are born into a lifetime of captivity with a surprising consequence — their caged existence helps undermine the already difficult task of saving their wild counterparts from the black markets.
With work in India, Nepal, the U.K, and across the U.S., The Hidden Tiger is a global exposé revealing the links between captive tigers and the possible extinction of wild tigers. Throughout their worldwide investigations, producers Josh Gildrie, Elizabeth McGovern and Michael Samtesto of Rescue Docs Films uncovered alarming realities:
An estimated 10,000 tigers are being exploited and abused for human entertainment in the U.S., yet fewer than 4,000 tigers remain in the wild.

Tigers can be legally purchased in some states for less than most dog breeds.
U.S. tigers are sadly a part of the nearly $8 billion black market trade in wildlife parts.
First responders are ill-prepared to handle tiger escapes, accidental releases during catastrophic weather and abuse situations involving tigers in the U.S., such as the Zanesville massacre.
Sanctuaries struggle to raise funds as they provide care for the once abused and neglected tigers that have fallen through the cracks of weak U.S. regulations.
Global efforts to save the tiger from extinction are being held back by U.S. failures and fake conservation pleas by exploiters that simply want to profit.
With its December 26, 2020 release of The Hidden Tiger, Rescue Doc Films explores promising solutions with current conservation efforts being made in Asia and the push to enact responsible federal legislation in America through the bi-partisan Big Cat Public Safety Act.
For The Hidden Tiger, Rescue Doc Films partnered with NGO's such as Panthera, the International Fund for Animal Protection (IFAW), the Environmental Investigation Agency, the World Wildlife Fund (WWF), as well as Steve Winter of National Geographic, and multiple sanctuaries including Big Cat Rescue with Howard and Carole Baskin.
For more information on the documentary, please visit http://thehiddentiger.com/ or https://rescuedocfilms.org, and should you like to schedule an interview with any of our partners, please reply to the media contact herein to make arrangements.