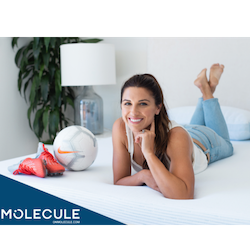 "With Molecule mattresses, sheets, and the rest of their entire line of sleep products, I'm getting the rest I need to propel me forward on the field and beyond." -Alex Morgan
CHICAGO (PRWEB) November 08, 2018
On the heels of helping to lead the US National Team to a 2018 CONCACAF Title and a berth in the 2019 FIFA World Cup in France, Alex Morgan has teamed up with Molecule, makers of a leading-edge sleep system that is used by the world's best athletes. Molecule has partnered with the Olympic Gold Medalist and FIFA World Cup Champion ahead of her 2019 season with both the US National Team and the National Women's Soccer League Team, the Orlando Pride.
Morgan, who uses the entire line of Molecule sleep products, will be an integral part of Molecule's growth as an elite athlete ambassador who joins a team of Molecule athletes that include Tom Brady, Russell Wilson and Nastia Liukin.
Alex Morgan is a forward for the Orlando Pride in the National Women's Soccer League (NWSL) and a member of the United States National Team. A graduate of the University of California, Berkeley, Morgan was the number one draft pick in the 2011 WPS Draft by the Western New York Flash. During the 2012 Olympics, Morgan scored the match-winning goal in the semi-finals against Canada, and helped secure the Gold Medal in the Games.
"Sleep is the most important recovery tool that I use," said Morgan. "When I am able to wind down and get into deep sleep, my recovery is just that much better. With Molecule mattresses, sheets, and the rest of their entire line of sleep products, I'm getting the rest I need to propel me forward on the field and beyond. I've been a fan of their products since the first day I tried them and have noticed improvements in my overall fitness and performance as a result of better sleep from using Molecule."
"We are extremely excited to welcome Alex to the Molecule team," said Channing Chor, Executive Vice President of Business Development for Molecule. "As one of the premier athletes in the world, Alex understands the importance of sleep and its positive effects on energy and performance for both the mind and body. Her commitment to quality training and recovery practices is unparalleled and we are honored to have her include Molecule as part of her recovery regimen."
Molecule's first-of-its-kind mattress and sheets are designed to regulate core body temperature with proprietary Air-Engineered™ technology. The proprietary foam used in their mattresses delivers almost 3 times the airflow of the leading competition, resulting in better heat dissipation, and ultimately better quality sleep. Molecule sheets include a unique blend of TENCEL™ and cotton that allow for more than twice the air permeability of traditional cotton sheets.
"It's a privilege to partner with an athlete who understands the value of recovery-focused sleep to stay at the top of her game," said Raymond Lyle, Co-Founder and Chief Marketing Officer for Molecule. "We look forward to working with Alex educate both athletes and active people everywhere about deeper sleep, alongside helping Alex perform at her best on the field."
Using patented Air-Engineered technology and proprietary materials, Molecule differentiates themselves by helping sleepers achieve more non-REM or slow wave - sleep, the deepest stage of sleep, which enables the body to better restore its muscles, joints and bones. Molecule's entire product line has been engineered from the ground up to maximize comfort and heat dissipation for the best recovery-focused sleep.
Morgan will rely on Molecule as her exclusive sleep partner. Her road to the FIFA 2019 World Cup in France, alongside her personal passions and regular adventures with her dog, Blue can be followed on both Twitter and Instagram. Molecule products are available online at onmolecule.com
About Molecule
Molecule, a premier performance sleep company, designs products that are Air-Engineered™ for cooler sleep, helping people achieve optimal rest and recovery so they can maximize performance in their active lifestyles. Developed by a team of renowned sleep scientists, neurologists and engineers, Molecule products are trusted by elite athletes such as Alex Morgan, Tom Brady, Russell Wilson, Nastia Liukin, Ryan and Sara Hall and Susan Francia. Molecule products are designed in the USA and are delivered directly to your door with free shipping and risk-free trials. For more information, visit us at http://www.onmolecule.com