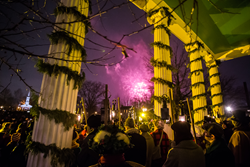 DEARBORN, Mich. (PRWEB) November 21, 2018
Three hundred years of holiday traditions come to life during Holiday Nights in Greenfield Village presented by Citizens Bank. Tickets are selling quickly for the chance to attend this immersive family-friendly event with some evenings already sold out. Holiday Nights take place November 30, December 1-2, 7-9, 13-16, 18-23 and 26-27 from 6:30 pm – 10 pm. New this year, members receive early access to the program at 6 p.m.
New to this program, guests can get swept up into the spirit of the season and gain early access to the evening's programming during Holiday Nights Happy Hour, an exclusive cocktail party taking place inside the Greenfield Village Pavilion. This holiday happy hour includes live holiday jazz music, appetizers and seasonal cocktails for purchase beginning at 5 p.m. Ticket prices are $47.70 for members and $51.95 for non-members.
Unlike anything of its kind, Holiday Nights in Greenfield Village allows guests to experience the holidays throughout history and explore the origins of Christmas as a national holiday. The halls of historic homes have been decked with festive decorations and guests can gain inspiration for meals this holiday season with cooking demonstrations inside the historical kitchens.
The sounds of the holidays can be heard on nearly every corner with live performances by the Dodworth Saxhorn Band, 'Michigan's Troubadour' Neil Woodward, Wassail Winds and dozens of carolers. Guests can take in the smells and tastes of the season at our food stations complete with hot chocolate and hot apple cider, roasted chestnuts and a roast beef carving station. Santa will be posted at Robert Frost home with his trusty reindeer. After taking a ride aboard a horse-drawn carriage or a Model T, guests can lace up a pair of loaner skates for ice skating in the Village's rink. Coming to the close of the evening, guests are invited to join the grand finale as carolers lead a festive sing-along complete with a fireworks finale at 9:40 pm on the Village Green.
For those who still have last minute Christmas shopping, gift options are available at The Henry Ford's own Liberty Craftworks glass and pottery collection, the Main Street Emporium and even an ornament shop located on Main Street. Traditional balsam fir trees, selected wreaths and holiday greens are also available for purchase at the Greens Market through Dec. 23 located on Bagley and Main Street.
Ticket prices for Holiday Nights in Greenfield Village are $23.75 for adult members and $17.75 for youth members, $28.00 for adult non-members and $21.00 for youth non-members. Children two and under are free. A $4 coupon is available online for select nights at http://www.thehenryford.org. To purchase tickets, call (313) 982-6001 or visit the website.
About The Henry Ford
Located in Dearborn, Michigan, The Henry Ford, a globally-recognized destination, fosters inspiration and learning from hands-on encounters with artifacts that represent the most comprehensive collection anywhere focusing on innovation, ingenuity and resourcefulness in America. Its unique venues include Henry Ford Museum of American Innovation, Greenfield Village, Ford Rouge Factory Tour, Benson Ford Research Center and Henry Ford Academy, a public charter high school. Together with its online presence at thehenryford.org, its national television programs, The Henry Ford's Innovation Nation and Did I Mention Invention? and other resources, The Henry Ford helps individuals of all kinds to unlock their potential and help shape a better future. The Henry Ford advanced its role as a catalyst for change in education with the acquisition of The STEMIE Coalition, a growing affiliation of organizations dedicated to fostering innovation, invention and entrepreneurship in students, K-12. With STEMIE, The Henry Ford hosts the National Invention Convention and Entrepreneurship Expo (NICEE) and makes innovation learning curriculum accessible to educators and students worldwide.