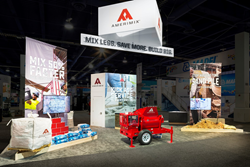 No sand pile means no worries about erosion, runoff or other job-site product loss, and there's protection from the contaminants that typically end up in the sandpile. It's also a more worker-friendly environment. -- Joey Peters, senior brand manager, Oldcastle APG
ATLANTA (PRWEB) October 31, 2018
Oldcastle's Amerimix brand of pre-blended mortar has won Exhibitor Magazine's 21st Annual Sizzle Award for Best Integrated Program at the 2018 World of Concrete. There were only five winners chosen this year overall, so Amerimix was among an elite group of honorees.
The company's mortars, stuccos, grouts, and specialty cements are preblended for consistency. Only water is added at the jobsite, reducing mixing time by 50 percent compared to traditional sand-mixing methods. Because the products are delivered in single or bulk packaging, there is no need for the traditional sand pile—which was the targeted message of the exhibit.
"No sand pile means no worries about erosion, runoff or other job-site product loss, and there's protection from the contaminants that typically end up in the sandpile. It's also a more worker-friendly environment," explains Joey Peters, senior brand manager at Oldcastle APG. Working with Interrupt LLC, Oldcastle launched a "Ditch the Sandpile" campaign to demonstrate these benefits.
Gretchen Turner, trade show manager at Oldcastle APG explains, "We know these messages resonate with masons when they get to know our products. We wanted to make sure that this year's booth displays did the best possible job of attracting masons' attention and demonstrating the value of Ditching the Sandpile."
The mason-centric program threw away the old static booth model in favor of an experience that started outside the exhibit hall. A day-long sand sculpting display intrigued and invited visitors to visit the Amerimix booth for information and a chance to win a Mobile Mud Hog mixing machine by EZG Manufacturing, valued at approximately $12,000.
Taking a gamble, Amerimix moved into the more populous South exhibit hall, from the West hall where masonry is usually represented. EZG then promoted the Mud Hog drawing from its booth in the West hall.
According to one Sizzle Awards judge, "Amerimix connected with the audience because it identified their pain points and showed in numeric, easy-to-understand terms how the product addresses them. It was a modest campaign, but it offered a potent theme, indoor and outdoor experiences, press and social media outreach, and even an animatronic cat. You can't beat that."
See more details in this month's Exhibit magazine. https://www.exhibitoronline.com/topics/article.asp?ID=2673 For more information about Amerimix, go to http://www.amerimix.com.
About Amerimix
An Oldcastle APG brand, Amerimix manufactures and delivers quality-preblended mortars, stuccos, grouts, and specialty cements to meet the needs of developers, general contractors, plasterers, and masons. Amerimix serves the commercial, industrial, institutional, and residential markets throughout the United States. Products are sold direct to contractors, through a licensee network and/or through distributors by an experienced sales team. For more information, visit http://www.Amerimix.com