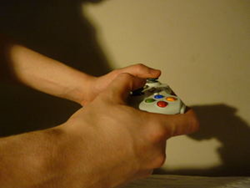 San Diego, California (PRWEB) May 10, 2014
In a recently published article, FunGamesBlog.com, the one stop site for the gaming community features the new game from AMG Services Entertainment. This is the first game out from them in a while, and FunGamesBlog.com is giving it a well worth the wait two thumbs up.
Tom Greevis, founder of FunGamesBlog.com says, "As soon as we got wind of this new game from AMG we were literally jumping to the phone to make sure we could be the first in line for a review. We soon found out that they were actually planning on contacting us which not only gave us our sigh of relief, but made our day."
The second collaboration between these two, Greevis says that this has serious potential of becoming a permanent partnership. "Usually when you hit the second successful team up, it's just the beginning. Barring some unforeseen bungle, this will be that second success."
Gretchen Hitchens, game designer from AMG Services remarked, "When we got the call from Tom we were actually discussing contacting FunGamesBlog.com for a feature of Charm Hunter. I guess it just goes to show how much in tune we are with each other."
Greevis says they have been playing Charm Hunter around the office for the past few weeks now, and even though it is aimed at children, they can't get enough. He also added, "Games that can keep kids and parents truly entertained at the same time are few and far between."
AMG Services Entertainment has been in the gaming business for the past decade, constantly mixing both new and old paradigms to create new and interesting game environments. Their new game Charm Hunter is due to be out in July.
About FunGamesBlog.com
FunGamesBlog.com is focused on making sure all the latest information about anything game related makes it to your table. Board, computer, interactive, or backyard, our job is to make sure it's featured on this site. Whether looking to plan a fun birthday party for children or having a BBQ with a few added activities we can help you find the answers. People tend to have an easier time talking and meeting new people while having fun, and playing games facilitates that fun. At FunGamesBlog.com there is a game to match everyone, if you're looking for fun this is your last stop.