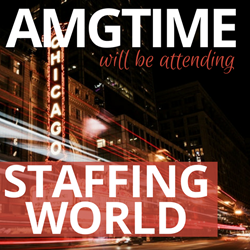 AMGtime will highlight why many staffing agencies trust their cloud system for time and attendance
CHICAGO (PRWEB) October 20, 2017
AMGtime will be exhibiting at Staffing World located at the McCormick Place in Chicago, Illinois from October 24-26. At booth 1023, AMGtime will highlight why many staffing agencies trust their cloud system for time and attendance, biometric devices, mobile apps, seamless integrations, import/export capabilities and much more. AMGtime also offers specialized industry solutions such as the Staffing Agency Module. This module allows agencies to accurately track employee pay rates, client bill rates, and use a variety of biometric devices at various locations. Staffing agencies can track, pull specialized reports, and send data to payroll all from one consolidated account.
In addition, the newest innovative AMGtime solutions solutions will be presented at Staffing World. AMGtime mobile apps were updated recently with GPS Workforce Tracking, which records the routes and movements of employees during work hours. AMGtime has also created a solution to convert Schlage HandPunch clocks into wireless and real-time devices. Also announced is the Q4'17 release of AMGtime's Advanced Scheduling Module, adding cutting-edge workforce scheduling capabilities.
Every year the largest staffing, recruiting and workforce solution conference, Staffing World, is held by the American Staffing Association. This event not only gives attendees an opportunity to meet with companies like AMGtime, supplying them with innovative solutions, they can also participate in mixers, talking sessions, book signings, workshops, and many more programs. Keynote speakers for this year's Staffing World include: Josh Linkner, Jonathan Mildenhall, Mark Schulman, and Mick Ebeling.
Visit AMGtime at booth 1023 to learn more about the most recent updates for workforce management in the staffing industry, see a variety of biometric devices, and play a guesstimating game for a chance to win an Amazon Echo dot!
About the Company
With 24 years of experience, Los Angeles-based AMGtime has made its mark as a national leader in providing workforce management solutions. AMGtime provides easy to use and flexible time and attendance products and services, including software available on both the cloud and PC, top of the line biometric hardware, mobile applications, specialized industry solutions, and much more. AMGtime's solutions are customizable and adaptable for basic to complex configurations, simple to implement, and inexpensive, providing organizations with the highest level of efficiency and ROI.