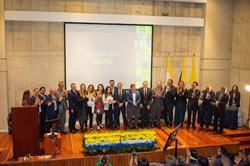 "Omnicon's culture strives to instill transparency, diligence, teamwork and respect into all interactions. Our team has shown an exceptional drive when delivering solutions to clients, and we are honored to be recognized for this effort."
CALI, Colombia (PRWEB) January 12, 2023
Omnicon, a global industry-leading system integrator of industrial automation, smart manufacturing, consulting, and data managements, today announced the company is again a recipient of Deloitte's Best Managed Companies award which weighs several factors to bring attention to high-achieving medium-sized private companies. Omnicon is recognized as a Best Colombian Company for 2022 and was previously recognized in 2021.
"Omnicon's culture strives to instill transparency, diligence, teamwork and respect into all interactions. Our team has shown an exceptional drive when delivering solutions to clients, and we are honored to be recognized for this effort," says Eduardo Acosta, owner and CEO of Omnicon. "We continue to live and work by the motto 'Dream it, we make it real.' We dreamt of winning the MEC Deloitte award, and we made it real!"
The Colombian Best Managed Companies (MEC) project is a branch of the global Best Managed Companies program and aims to recognize the operational excellence of private companies around the globe. With a presence in 50 countries worldwide, the MEC program is part of an initiative that highlights private midsize companies with advanced management goals and exceptional performance. Presented by Deloitte, the program is in alliance with Banco de Bogotá and the Pontificia Universidad Javeriana, in which medium-sized private companies with annual sales ranging between five and sixty million dollars can participate.
With 149 companies in the running, the evaluation process weighed aspects such as fixed asset management, leadership, sales growth, operating margin, talent and sustainability as well as external factors. Notably, companies benefit from even participating as the program presents professional training, networking opportunities, media attention as well as access to exclusive events and thought leadership.
"As the COO of Omnicon, I have seen the various ways in which our team has embraced the ever-changing technology landscape to achieve high results. While it was an honor to even participate in the MEC program, the recognition that Omnicon has received only motivates us to continue our impact on digital solutions," says Daniel Gomez, Chief Operating Officer at Omnicon. "Having been with Omnicon for almost 11 years, I have great pride in the team being recognized for our impact on automation, smart manufacturing, consulting, and digital solutions. The MEC program allows for dynamic networking opportunities and reminds us that helping industry-leading companies across the food and beverage, pharmaceutical, electrical, oil and gas, and packaged goods communities achieve their goals directly impacts daily lives."
Juan Carlos Olave, Client and Industry Lead Partner at Deloitte Spanish Latin America, speaks highly of Omnicon and the other recipients of the Best Managed Companies award. Olave says, "These companies showed the potential they have to overcome great challenges. They are a clear example of innovative business practices that explore new alternatives in the face of constantly changing business environments and must be protected and promoted in a decisive way to promote economic growth and general well-being of the population."
About Omnicon
Founded over 30 years ago, Omnicon has quickly expanded from humble beginnings into an impressive, industry-leading system integrator with a large presence in the United States, Latam, and 65 countries worldwide. Omnicon specializes in engineering, process control manufacturing operations management, IIoT, data analytics, and successfully solving automation and production challenges that renowned manufacturing facilities face in industries such as food and beverage, consumer packaged goods, chemical, pharmaceutical, mining & cement, oil & gas, and utilities industries.
In addition to being a Rockwell Automation Gold Integrator and an Aveva System Integrator, Omnicon is proudly a CSIA Certified system integrator and member of the Automation Alliance Group. For more information, check out Omnicon's website, LinkedIn, Facebook, Instagram, and Twitter.