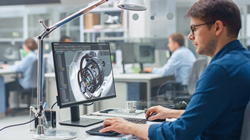 Information is one of the best assets any company has. Using outdated information management software may render a company's data obsolete, making it difficult to stay on top of current business trends.
HOUSTON (PRWEB) December 07, 2020
As businesses struggle to understand and adapt to the economic impacts of the novel coronavirus pandemic, operations leaders in various companies are seeking ways to rein in costs, increase productivity, and cut down on risk. But many of these companies overlook one crucial factor—the use of outdated information management systems. Older systems can actually disrupt business functionality and processes, leading to production delays and impaired communication among employees.(1) "Information is one of the best assets any company has," says Paul Cheetham, VP, Global Services of engineering and information management firm Kinsmen Group. "Using outdated information management software may render a company's data obsolete, making it difficult to stay on top of current business trends."
Understanding information maturity is key to improving the quality or use of resources within any business since the process identifies how data is managed, used, and shared among employees. This is especially important for companies in certain industries, such as manufacturing since they often deal with complex engineering information. In many cases, key pieces of information, such as equipment specifications, are scattered across several software systems, limiting accessibility, and compromising the integrity of the data. From a recent poll conducted by Kinsmen Group, 84% of respondents indicated that when an incident or near miss occurs, access to or the quality of information had a medium to very high contributing factor.(2)
When it comes to structuring, storing, and managing engineering information, maturity assessments can help companies identify strategies for improvement. Maturity assessments come in many shapes and sizes, but till today, none existed specifically for Engineering Information. Two real life examples demonstrate the value of completing the Maturity Check.
Real-Life Examples
Example #1, a company received a score of proactive. By answering a short series of questions, it was determined that this company tends to focus on individual facilities and local leadership, which means that systems, tools, and processes at one facility can vary greatly from another. (3) While the company takes engineering information seriously and works to anticipate potential challenges, processes may not be aligned, and it may be more difficult to utilize employees across different facilities, making it challenging to aggregate data among various software systems.
Example #2 features a company that received a score of reactive. Reactive companies tend to only address challenges when and if they arise, generally spending a great deal of money to fix such problems. But these types of point solutions are often not integrated with existing software, making it difficult for employees to extract relevant information and incorporate it into existing systems. (4) As a result, operations and maintenance processes may be affected while employees search for the information that is needed for these projects.
Best Documented Assets
In many cases, companies can also benefit from Best Documented Asset practices, which help ensure every asset owned is documented to the highest standards possible. Coupled with the Engineering Information Maturity Check, businesses can journey toward safer facilities and a more productive workforce while remaining fully compliant with industry regulations.
Kinsmen Group has developed two versions of a unique maturity assessment. The 7-summits program is a 6-week in-depth assessment. Across 200+ indicators, a detailed roadmap with realistic goals is developed, allowing the organization to make informed decisions. In addition, they developed an online survey that covers topics such as IT-systems, strategy, processes, and much more. The respondents receive a personalized report to start their journey towards improvement.
"We still don't know the full extent of the pandemic on businesses, particularly in the manufacturing and production sector. But our Engineering Information Maturity Check survey can help determine the quality of an organization's information and information management systems, helping them find solutions before problems arise," says Cheetham.
About Kinsmen Group
Kinsmen Group is an award-winning team of engineering information management specialists with a passion for applying innovation to prominent oil, gas, pharmaceutical, utility, and process manufacturing companies. Their organization strives to deliver superior business results through excellence and pragmatism each time they partner with any business, revolutionizing each with wiser decision-making, risk reduction, safety improvement, and higher returns on their investments. Kinsmen Group is ranked as the "Best of the Best Professional Service Organizations" by Service Performance Insight Research and among the "Fastest-Growing Private Companies in America" by Inc. Magazine. To learn more, visit http://www.kinsmengroup.com.
1. Alcon, Joel. "5 Risks Of Outdated Software & Operating Systems." BitSight, 2017, bitsight.com/blog/outdated-software-issues.
2. Kinsmen Group, "Magic of AI & Machine Learning for Engineering, Operations & Maintenance", linkedin.com/events/magicofai-machinelearningforeng6730535858400821248/, 2020
3. Engineering Document Manager. "Engineering Information Maturity Check Report - Proactive – global limestone producer." Kinsmen Group, 2020.
4. Industrial Engineer. "Engineering Information Maturity Check Report – Reactive – global pulp & paper producer." Kinsmen Group, 2020.