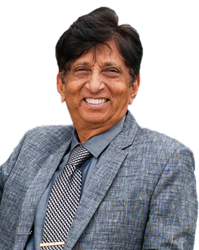 "My deep appreciation on how the company has been responding to the pandemic and for the help for the families in need."
SEMINOLE, Fla. (PRWEB) August 19, 2020
In these troubled economic times when employers are issuing pink slips and reducing benefits, a local manufacturer of aerospace parts and orthopedic instruments has shown there are still employers that truly care for their employees. S.S. White Technologies and its subsidiary SHUKLA Medical are located in Seminole/St. Petersburg, Florida. The company has 120 employees at their main manufacturing plant in Seminole and 500 total employees worldwide. Owner/CEO Rahul Shukla moved his plant from New Jersey to Florida 30 months ago. The company has already earned a reputation for supporting community causes and for looking after their employees.
"We stayed a few steps ahead, implementing safety measures for the COVID crisis," said HR Manager, Sheryl Sheppard. "In early March, we installed hands -free faucets and bathroom fixtures, paid each of our employees a $4/hr bonus for working during the lockdown period, and made and distributed free masks to our employees and their families along with local medical organizations and other manufacturing companies."
Two weeks ago, Ms. Sheppard told CEO Rahul Shukla of her agonizing decision to not send her son to school for a while. She went ahead and hired a private tutor for her son. When Shukla heard this, he said, "Many employee-parents must be going through a similar dilemma. To decide whether to send a child to school or tutor at home would be a deeply personal and a heart wrenching decision. I would hate to make such a decision strictly on financial considerations." He said to Ms. Sheppard, "Give me a proposal where we can give $50 per week to an employee who decides to hire a tutor."
Just before approving the proposal from Ms. Sheppard, Shukla thought of his own struggling days 45 years ago when he was a low-level factory worker in the same company. He then raised the amount of tutor assistance to $100 per week.
Last Thursday, Sheppard made an announcement to all the employees about the new policy on Tutor Assistance. Judith Arocho, an employee who works on the production line, said, "My two kids are staying home. Getting the money from S.S. White will really help us sleep at night." Other employees, even those without children came forward to share how much they appreciated the gesture. Dr. Santosh Yerrabolu, research engineer, sent an email to Sheppard, "My deep appreciation on how the company has been responding to the pandemic and for the help for the families in need."
Giving new benefits in this difficult time was not an easy decision. The company's business has decreased to less than half of what it was prior to April. "Yet, we have hung on to 120 employees, close to our full strength of 125. In addition, last month we announced an improvement in our maternity leave benefit. We will now provide a 4-week paid leave not just to an employee-mother but 4-week paid time off to an employee-father too", said Sheppard beaming with pride.
When asked, how a small company can afford improving benefits when business has seen a 50% reduction in sales, CEO Rahul Shukla said, "It's just a matter of priorities. To us, our employees are our family. They are our priority one."