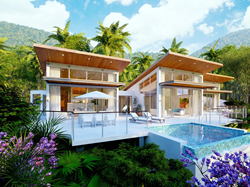 travellers will have something to look forward to as the temperatures drop
SAN IGNACIO, Belize (PRWEB) December 11, 2018
With meteorologists predicting a particularly cold January for parts of North America, The Lodge at Chaa Creek says it is offering a new Belize vacation package to help take the chill out of winter.
The Winter Warmer all-inclusive Belize vacation package offers a twenty-percent discount off accommodations and a selection of complementary activities, making a complete Belizean holiday an affordable alternative to a frosty January, Chaa Creek's public relations coordinator said.
It also makes for an exciting Christmas present that can be presented in December and enjoyed in the new year, she added.
"With weather forecasters predicting an especially cold January, we're predicting that a tropical vacation will be especially welcome this winter," Denise Duran said.
Various sources are forecasting a frosty beginning to 2019, with The Farmer's Almanac predicting a "Teeth chattering" cold winter, with plenty of snow.
Paul Dorian, a meteorologist with Perspecta Weather agrees that a cold winter is on the way, writing that "A detailed analysis of many different factors suggests...that much of the eastern half of the nation should experience a colder-than-normal winter with more snow than normal."
And, according to Accuweather's long-range forecaster Paul Pastelok, "The season will start out mild for much of the region before colder weather digs in its heel in January and February."
Given those predictions, Ms Duran said Belize's famously temperate climate will be particularly attractive, especially with Chaa Creek's new discounted vacation package making an escape to the tropics more affordable than usual.
"From the 15th of January until the end of the month, travellers can enjoy savings of twenty-percent off eco-luxe accommodations, including delicious farm-to-table dining, activities such as swimming, canoeing, and guided nature walks, and plenty of sunshine and relaxation," Ms Duran said.
Chaa Creek's Sun Country Winter Warmer is an all-inclusive Belize vacation package available as a three, four, or five nights stay. The package incudes accommodation in Chaa Creek's Cottage Collection, breakfast, lunch and dinner at the onsite Mariposa Restaurant, a wide selection of activities, ground transfers that include a visit to the Belize Zoo, and all staff gratuities and government taxes.
Complementary activities include early morning bird watching, canoeing along the Macal River, guided tours of the onsite Belize Natural History Museum, Butterfly Farm, and Maya Rainforest Medicinal Plant Trail, and complete access to Chaa Creek's 400-acre private nature reserve with miles of secure jungle trails.
The four and five day packages also include a choice of full or half day tours to ancient Maya temples and other Belizean attractions.
Extras such as horseback riding and professional treatments at the Hilltop Spa are available as options, and free accommodation upgrades are offered depending on availability. As with all stays at Chaa Creek, young guests under 18 years of age can share their parent's accommodations free of charge.
Ms Duran said many travellers say they welcome Chaa Creek's commitment to sustainable tourism.
"Our guests tell us they sleep better knowing that one out of every ten dollars they spend on their lodgings goes directly into environmental and community projects under our 'Chaa Creek Cares' program," she said.
As the Sun Country Winter Warmer is a limited time, all-inclusive Belize vacation package based on availability, Ms Duran encouraged people to book early to avoid disappointment.
"By securing reservations now, either through travel agents or Chaa Creek directly, travellers will have something to look forward to as the temperatures drop," she said.
"They can also brighten Christmas for friends and loved ones with the gift of a tropical Belize vacation. We'll even create a personalised Christmas card to make a special gift even more special," Ms Duran added.
The Lodge at Chaa Creek is a multi-award winning eco resort set within a 400-acre private nature reserve along the banks of the Macal River in Belize. It was recognised by National Geographic with first place honours at the 2017 World Legacy Awards held in Berlin.