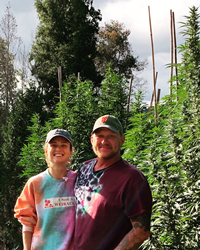 "Never sacrifice your palate; edibles should taste great, like real fresh food." - VIVE co-founders and owners—Talley and Shawn.
OAKLAND, Calif. (PRWEB) October 08, 2019
The recent controversy over Vape products, including President Trump's plan to institute a federal ban of flavored e-cigarettes, leaves many current and prospective consumers wondering where to turn for truly effective cannabis delivery. Vive owners Shawn and Talley have the innovative, and delicious answer that melts in your mouth – they've pioneered the first THC and CBD infused sublingual mints.
According to the Centers for Disease Control (CDC) and FDA, more than 1,080 people nationwide have been hospitalized as a result of developing lung conditions following e-cigarette use, reporting such symptoms as shortness of breath, coughing, and chest pain. Eighteen people have also died in connection with vaping-related ailments, prompting many states, most recently California, to urge residents to avoid e-cigarette use.
This crisis compels the Cannabis industry to come up with effective and flavorful vape-free solutions.
Practical, flavorful and curated for everyday life, Vive California was co-founded by Talley Tobin and Shawn Smith, bringing together the quality of farm-to –table cuisine and the cannabis lifestyle. These folks are Michelin star quality with small town charm. Shawn is, in fact, a Michelin star chef, and the couple met at an Oklahoma bar where Talley was working as a bartender.
Vive's cannabis-infused mints are the first of their kind – all natural, gluten free, vegan, low calorie, fast acting, and delicious. Flavor, texture and user experience are their top priorities. Their tempting offerings include micro-dosed sublingual mints in flavors such as Pineapple Passion Fruit, White Hot Cinnamon, Ginger Peach and Cherry Limeade, "Sweet Heat" Tropical Flame, and "Sweet Heat" Wicked Watermelon. This sweet team also has a sumptuous chocolate line, reflective of their extensive confection background.
Vive looks forward to releasing their newest product offerings just in time for the holiday season. As Shawn and Talley put it "Choose your cannabinoids, choose your flavor, choose your Vive!" Vive products are available at over 115 cannabis dispensaries in California, including The Apothecarium, Harvest, CBCB, Buds and Roses, People's OC, Bud and Bloom, and SCSA South Coast Access. To learn more about Vive and to get advanced access to their new holiday line, please visit http://www.vivecal.com.

With their all-natural and micro-dosed products, VIVE co-founders and owners—Shawn and Talley—are changing the way the world approaches and consumes cannabis. Together they've pioneered the first THC- and CBD-infused sublingual mints. Shawn and Talley have participated in every stage of the cannabis product cycle—from harvesting, to lab work, to finalizing inventory. Their experience and perseverance have allowed for VIVE to remain self-sustaining without the involvement of any larger corporations. For them, VIVE is a passion and a way of life that they love sharing with as many people as they can. They embrace life and want you to do the same!