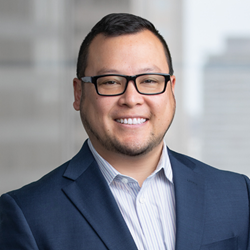 In the last two years we have attracted top medical device regulatory talent, and with the addition of a technology IP attorney of Peter's caliber, we have recreated that model for medical device and other technology companies.
CHICAGO (PRWEB) January 21, 2021
Peter Paredes focuses his practice in the fields of biotechnology, nanotechnology, medical devices, genomics, diagnostic systems, drug delivery systems, optical imaging systems, e-commerce, business methods and more.
He helps his clients develop and protect patent portfolios, conducts due diligence investigations for acquisitions and licensing, and prepares clearance and freedom-to-operate opinions for product development and commercialization. In addition he drafts and negotiates license agreements, technology agreements, and clinical trial applications.
Mr. Paredes joins the firm from Rosenbaum IP, P.C., where he was Chair of the Global Patent Practice. "I am very excited to begin this new chapter in my career with Amin Talati," said Mr. Paredes. "Its sophisticated regulatory practice will be a tremendous asset to my life science clients, and I look forward to expanding its leading IP practice into new areas."
"Our patent and trademark practices have been cornerstones of the firm since its founding," said Ivan Wasserman, the firm's managing partner. "Our model of being a 'one-stop-boutique' for regulatory and IP needs has been a tremendous value for our clients and helped fuel our growth in the food, beverage, dietary supplement and cosmetic industries. In the last two years we have attracted top medical device regulatory talent, and with the addition of a technology IP attorney of Peter's caliber, we have recreated that model for medical device and other technology companies."