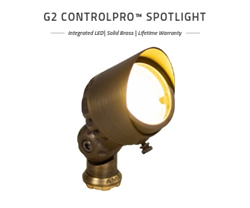 Compact, powerful, and attractive in design - The G2 ControlPro™ is the professional's choice for a bronze brass integrated LED spotlight.
TAMPA, Fla. (PRWEB) November 08, 2018
Professional landscape lighting manufacturer AMP® Lighting has implemented a shift to single source technology with the latest release of their second generation ControlPro™ series.
Continuously working to improve and expand their brand, AMP's® mission is to exceed the expectations of lighting professionals on a day-to-day basis. This latest innovation further illustrates how their team is leading the industry down a brighter path toward new technologies in landscape lighting.
The most notable improvement made to the second generation ControlPro™ is the integrated CREE™ single-emitter diode. This single diode produces crisp, clear illumination with lumen outputs ranging from 350-650 depending upon the ControlPro™ model. Color temperatures are a warm 2700K with a color rendering of 80+, ideal for outdoor landscape lighting.
Michael Caselnova Jr, Director of Product Development, explains the significance of the change:
"Single source LEDs allow for a crisp throw of light that will remain free of any potential overlapping shadows. Unlike multi-source LEDs [LEDs utilizing multiple diodes], which have overlapping beam spreads resulting in the appearance of numerous overlapping shadows around the object being illuminated."
The new series maintains its superior durable solid brass construction with an elegant brushed bronze finish. The natural brass construction will produce a beautiful patina over time, making it a much sought-after landscape material. Landscape professionals wishing to customize their lighting can take advantage of the interchangeable 17°, 24°, 35° and 60° optics featured on the second generation ControlPro™. The fully-adjustable glare guards allow for the positioning of light where it is most needed. Professionals and their clients will have peace of mind knowing all brass spotlights offered by AMP® Lighting have a lifetime warranty.
To learn more, visit: G2 ControlPros™
ABOUT AMP® Lighting
AMP® Lighting, leading factory-direct landscape lighting manufacturer for professionals, pursues an aggressive strategy of continuous product improvement and new product development. For more information, go to http://www.amplighting.com.