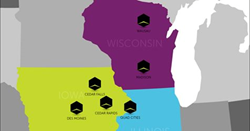 It's awesome to be operating as one cohesive team now, allowing us to turn our complete focus on planning a successful 2019 for all our clients.
CEDAR FALLS, Iowa (PRWEB) November 28, 2018
Nine months after AMPERAGE Marketing & Fundraising acquired Creative Communication & Design (Creative), the leadership team has successfully integrated the best of both agencies and is fully operational and growing in all its markets.
"It's been a banner year for AMPERAGE in terms of growing our footprint, as well as seeing growth in nearly every area of our client solutions portfolio," said Bryan Earnest, president and CEO of AMPERAGE. "Our strength lies in being our clients' strategic partner, providing research, strategy and creative execution for maximum impact. We are uniquely positioned to provide end-to-end solutions across all stages of a customer's journey to conversion —connecting, motivating and measuring along the way."
AMPERAGE's comprehensive suite of client solutions now includes:

Marketing Strategy & Planning
Fundraising Consulting
Digital
Branding & Advertising
Video Production
Design & Content
Public Relations & Crisis Communication
Event Marketing & Management
Research
Media Planning & Buying
"I think all of Wisconsin can feel the excitement and enthusiasm pulsing out of our Wausau and Madison offices," said Chris Liedtke, AMPERAGE's director of Wisconsin operations and former principal of Creative. "The blending of our expert teams, methodologies and innovative technologies has re-energized us all, and we're really starting to reap the benefits of operational efficiencies."
AMPERAGE and the Wausau Region Chamber of Commerce recently held a ribbon-cutting ceremony and open house to officially celebrate AMPERAGE's expansion into the Wisconsin market. "You can see from the pictures and video that mixing the best craft beers and culinary delights from Wisconsin and Iowa moves the needle on the fun meter for a ribbon-cutting ceremony," added Liedtke.
The newly expanded AMPERAGE is a business-to-business and business-to-consumer agency and fundraising and public relations consultancy serving clients across a range of industries and specialties. AMPERAGE serves clients in healthcare, education, manufacturing, insurance and finance, transportation and government, along with a wide variety of nonprofits.
"Having a fundraising division and many nonprofit clients exemplifies our cultural belief in doing work that positively impacts people's lives in significant ways," said Mark Mathis, AMPERAGE chief strategic and creative officer. "You'll see our 'Full Volume' employee volunteer crew out in force throughout the year. You will feel the philanthropic impact we bring to our communities, especially during the holiday season. When AMPERAGE comes into a market, we're more than a community partner; we're community builders."
AMPERAGE is one of the largest fundraising consultancies in Iowa, working with nearly 100 Midwest capital campaigns to build everything from hospitals, hospice homes and libraries to recreational and tourism attractions.
"We truly love being part of something bigger and are enjoying the synergies," said Cindy Baumann, AMPERAGE's creator of opportunities and former principal at Creative. "Collaborating with our fellow AMPers in Iowa has been the perfect combination of forward-thinking strategy meetings and creative, brainstorming fun! But the best part of it all is that our clients are enjoying the experience and appreciating the great results we're able to produce for them with our extended bench of experts and additional service offerings."
Baumann splits her time between Wisconsin and Florida, where AMPERAGE's largest client, Memorial Healthcare System, is located.
"We're very pleased we were able to complete the integration phase of the acquisition several months before our one-year anniversary deadline of March 1—as we say around AMPERAGE, speed thrills," said Earnest. "It's awesome to be operating as one cohesive team now, allowing us to turn our complete focus on planning a successful 2019 for all our clients."
AMPERAGE Marketing & Fundraising is an advertising, marketing, public relations and fundraising firm with offices in Cedar Falls, Cedar Rapids, Des Moines and Bettendorf, Iowa, and Wausau and Madison, Wis. The company's size and locations offer a unique combination of capabilities and expertise, providing clients with evidence-based marketing and communications strategies that produce results.