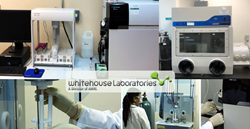 Ensuring drug products are free from contaminating substances is a critical function, and our clients' demand for this vital service is increasing, so we are increasing our capacity by 50 percent
(PRWEB) October 08, 2018
Whitehouse Labs, a division of AMRI, has expanded impurity testing capacity in its Lebanon, NJ, facility with the addition of an Agilent 7900 ICP-MS (inductively coupled plasma mass spectrophotometer) system, allowing the site to provide customers with even more rapid and efficient service of the highest quality.
The ICP-MS systems have the capability to detect contaminating trace metals at levels as low as parts per trillion, a key requirement for testing of drug products and active pharmaceutical ingredients.
In addition, the company noted that it now has the capability and qualifications to test potent substances, which require additional specialized equipment, including a Labconco® Xpert™ Weigh Box laminar flow hood, and its technicians use UltraWAVE™ microwave digestion system for difficult samples.
"Ensuring drug products are free from contaminating substances is a critical function, and our clients' demand for this vital service is increasing, so we are increasing our capacity by 50 percent," said Amanda Wohlleber, head of the Lebanon, NJ, facility. "With this specialized equipment, we can provide testing services on the types of substances that are increasingly found in next generation drugs."
Whitehouse's ICP-MS systems are in compliance with the code of federal regulations 21CFR Part 11, and the company is qualified to perform USP (United States Pharmacopeia) 232 and 233 testing.
About AMRI
AMRI, a global contract research and manufacturing organization, partners with the pharmaceutical and biotechnology industries to improve patient outcomes and quality of life. With locations in North America, Europe and Asia, AMRI's team combines scientific expertise and market-leading technology to provide a complete suite of solutions in Discovery, Development, Analytical Services, API Manufacturing and Drug Product. For more information about AMRI, visit http://www.amriglobal.com.