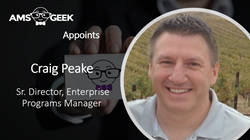 I'm honored to be part of such an innovative group of people. The atmosphere is very exciting and upbeat. Great things are happening at AMS Geek
MCLEAN, Va. (PRWEB) November 24, 2020
AMS Geek, a leading IT consulting firm focused on the nonprofit, association and government markets, announced today its most recent strategic hire: Craig Peake has joined the firm as Senior Director, Enterprise Programs Manager, overseeing AssociationWire LLC's major-projects division within its flagship consulting arm, AMS Geek. Benjamin Muscolino, Founder and Owner of AssociationWire LLC, a Virginia based holding company touting brands such as AMS Jobs, AMS Geek and others, commented "The addition of Craig to the leadership team here will position AMS Geek for further growth as the company expands its footprint into government IT consulting while keeping a veteran eye on the associations we've worked so hard to win over the past couple of years." The primarily association focused IT consulting firm, based out of McLean Virginia, was awarded its first government contract in September of this year, and plans to double down on the market momentum by making this strategic hire. Muscolino added "I have a few ventures going well right now and the only way to ensure we capitalize on these opportunities is to hire the best people to add to our already impressive team. Craig brings years of industry experience with a mind and work ethic for strong process. Hiring the best means adding people like him to the team, period."
Craig brings extensive experience gained from a career that spans military, government contracting, and decades of hands-on Enterprise Association Management Software (AMS). Craig's most recent 17+ years was loyally spent at one of the market leading portfolio companies containing dozens of brands including 4 Association Management Systems, multiple fundraising and fund accounting products, an entire event technology division comprised of 2 newly acquired mobile app brands, a virtual event software brand and other business units stretching from faith-based applications to a portfolio of companies serving the education K-12 markets. As Senior Director at AMS Geek, he will provide strategic direction and oversight to the firm's operations and client services division and will collaborate with AMS Geek and AssociationWire LLC's Executive Leadership Team. "Craig's professional experience and reputation speak for itself in this market, but his strong character and love for the industry will personify and amplify the lives of AMS Geek's family of clients and partners by continuing to raise the bar on what we do, but also how we do it" said Benjamin Muscolino, Chief Executive Officer and Founder of AMS Geek. "Craig will continue pushing boundaries while improving our client experience, company culture and overall quality of delivery. He is a great cultural fit and has already proven to be an exceptional leader in the years I've known him", Muscolino added. When asked about his decision to go from a proven large private equity powered portfolio company to a more boutique portfolio of brands run by Muscolino, Craig Peake commented that, "I'm honored to be part of such an innovative group of people. The atmosphere is very exciting and upbeat. Great things are happening at AMS Geek, and I'm thrilled to add my experience to our team". Ben Muscolino, serial entrepreneur and founding CEO, has a reputation for customer centric accessibility with a focus on internal collaboration to drive external growth. These are some of the qualities that attracted the industry veteran to join the fast growing AMS integration, implementation and consulting firm in November of 2020.
Prior to joining AMS Geek, Craig enjoyed working at Abila (Community Brands), rising through the organization from Sr. Technical Project Manager from 2003-2010, Product Marketing Manager in 2011, Director Customer Care Consulting 2011-2014 and eventually spent his last 7 years from 2014-2020 as Enterprise Partner Advocate Sr. Director.
The new opportunity of government contract and subcontract work comes with it the challenge of keeping the company focused on its heart and soul which is nonprofit systems like AMS consulting and being a market leading AMS integration development firm. Craig Peake is the very definition of a strategic hire to keep that focus after assembling an all-star cast over the past two years which already included the likes of Emily Persson, Jeremy Evans and Brett Dangle. AMS Geek Founder Benjamin Muscolino concluded, "We truly operate as a team here. Everyone collaborates openly and we learn from each other as a team all the time. The people that helped AMS Geek and AssociationWire get to where we are now; they're all pumped to have Craig's experience and thought leadership on our team to continue to push each other to do more for the sake of our customers and ourselves".
About AssociationWire LLC
Founded in 2011, AssociationWire LLC is the Virginia based holding company for AMS Geek, AMSJobs.com and other brands owned and operated by Benjamin Muscolino and his team of association, nonprofit and government tech enthusiasts and content geeks.
About AMS Geek
Founded in early 2019, AMS Geek is an experienced provider of software and IT consulting services to associations, nonprofits, government and schools. Organizations partner with AMS Geek to implement, integrate, project manage and consult around technology projects. Across the team of professionals, we've worked with and for associations, nonprofits and government for decades helping organizations achieve their goals and realize their vision through technology.
Media Contact
Brett Dangle | Sales and Brand Coordinator
AssociationWire LLC dba AMS Geek
brett at amsgeek.com | http://www.amsgeek.com
m: 407-860-8786